M.F.A. Program
This small, highly personal two-year program in creative writing confers master of fine arts degrees in fiction, poetry, and playwriting. It offers single-discipline and inter-genre workshops, literature seminars, small-group reading tutorials, and one-on-one tutorials, all of which emphasize relationships between eminent faculty and students. Additionally, students have the opportunity to work on our literary journal, The Brooklyn Review, and give public readings and performances in Brooklyn and Manhattan. The program offers some fellowships and prizes. Students may also teach undergraduate courses for the English Department.
Our graduates have had their work published widely and have won competitions sponsored by the Iowa Review, the Colorado Review, the Mississippi Review, and Zoetrope, among many others. They have had books published, received major prizes, founded presses and literary journals, and been included in numerous anthologies, including The Best New Young Poets, Best American Short Stories, Best American Nonrequired Reading, O. Henry, and Pushcart. Our playwrights have won Obies, Guggenheim Awards, and the Pulitzer Prize, started theater companies, and had their plays produced here and abroad. For more information about what our students, alumni, and faculty are up to, visit our Student Publications, Newsletters, and Events pages.
We host regular on-campus readings by some of the most gifted writers at work today. These readings are intimate, meant for students in the program and members of the community. The writers read from their work and speak informally to students about the writing process. Recent visiting writers include: Jeff Allen, Allison Amend, Benjamin Anastas, L.A. Asekoff, Jonathan Baumbach, Caroline Bergvall, Anselm Berrigan, Frank Bidart, Amy Bloom, Lucy Brock-Broido, Susan Choi, Lisa D'Amour, Erin Courtney, Edwidge Danticat, John Darnton, Jonathan Dee, Stacey D'Erasmo, Donna Di Novelli, Timothy Donnelly, Jackie Sibblies Drury, Marcella Durand, Amy Eddings, Eric Ehn, Jennifer Egan, Nathan Englander, Joshua Ferris, Jonathan Safran Foer, Graham Foust, Elizabeth Gaffney, Mary Gaitskill, Melissa Gibson, Francisco Goldman, Kenneth Goldsmith, David Grubbs, Pete Hamill, Susan Howe, Erica Hunt, Linda Susan Jackson, Julia Jarcho, Lisa Jarnot, Len Jenkin, Robert Kelly, Sibyl Kempson, Jhumpa Lahiri, Sydney Lea, Jonathan Lethem, Tan Lin, Phillip Lopate, Sam Lipsyte, Alice Mattison, Colum McCann, Frank McCourt, Ernesto Mestre, Anna Moschovakis, Paul Muldoon, Dennis Nurkse, Geoffrey G. O'Brien, Stephen O'Connor, Joseph O'Neill, Jenny Offill, Julie Otsuka, Caryl Phillips, Marie Ponsot, Francine Prose, Nava Renek, Roxana Robinson, Adam Ross, Sarah Ruhl, Karen Russell, Sapphire, Gjertrud Schnackenberg, Helen Schulman, Elizabeth Searle, Sara Shepard, Lorna Simpson, Darin Strauss, Gary Shteyngart, Elizabeth Strout, Lawrence Thornton, Colm Tóibín, Kate Walbert, Dana Ward, Colson Whitehead, Diane Williams, Liz Willis, and Mark Yakich.
To read about some of our students, see the recent Poets & Writers "MFA Nation" feature.
Sigrid Nunez, Winner of the National Book Award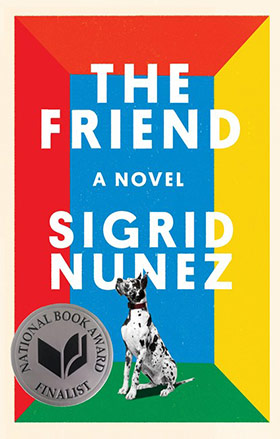 The Friend, Winner, National Book Awards 2018 for Fiction
Sigrid Nunez is the author of the novels Salvation City, The Last of Her Kind, A Feather on the Breath of God, and For Rouenna, among others. She has been the recipient of several awards including a Whiting Award, the Rome Prize in Literature, and a Berlin Prize Fellowship.
Playwriting Alumna Annie Baker Wins MacArthur Genius Grant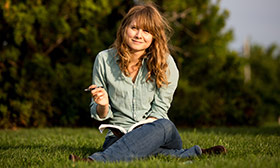 Playwriting alumna Annie Baker has been named a 2017 MacArthur Foundation Fellow. Baker is a playwright exploring the complexities of human behavior and the ways in which language is often inadequate to build true understanding between people. With a keen ear for the subtleties of everyday speech, a masterful command of dramatic structure, and a willingness to allow silences to linger on stage (often to a point of discomfort), she brings to life the erratic rhythms of human interaction.
Photo: John D. & Catherine T. MacArthur Foundation
Announcements
Brooklyn College is delighted to announce the following awards for our faculty and alumni:
Poetry alumnus Paul Beatty has won the 2016 Man Booker Prize.
Faculty member Ben Lerner has been awarded a 2015 MacArthur Fellowship.
Faculty member Marjorie Welish has been awarded a 2014 Guggenheim Fellowship.
Playwriting alumna Annie Baker has received a 2014 Guggenheim Fellowship and the 2014 Pulitzer Prize for Drama.