History
By examining the past, you understand the present and can create a better future.
Historians study humanity's past successes and failures, eras of brilliance and times of darkness, enlightened civilizations, and devastating regimes—all of which help explain the present. And with a firm understanding of what preceded us, you can shape where we are headed. A bachelor's degree in history means that you've learned which ideals, systems, and structures benefited mankind and which ones didn't, and that can ease your entry into almost any field, such as government, education, and business. Our Department of History faculty, which includes Pulitzer Prize winners and finalists, will work closely with you to advise you on the myriad opportunities awaiting you.
Important Adviser Information
Contact Information
Department Chairperson: Gunja SenGupta
Location: 1105 Boylan Hall
Phone: 718.951.5303
Fax: 718.951.4504
Alumni Spotlight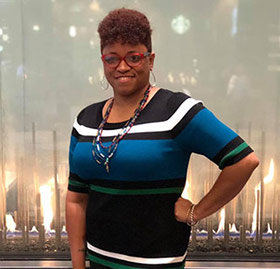 Charlene J. Fletcher '14
I enjoyed course work at Brooklyn College, but the class that left the greatest impression on me was Medieval Europe, with Dr. Lauren Mancia. I had no background in European history, and Dr. Mancia not only combined the archive with material culture, but her course allowed me to explore my own interests in women's history through an unfamiliar lens. It was fantastic. Even as an Americanist, I still return to the methods and ideas gleaned from Dr. Mancia's course.