History
By examining the past, you understand the present and can create a better future.
Historians study humanity's past successes and failures, eras of brilliance and times of darkness, enlightened civilizations, and devastating regimes—all of which help explain the present. And with a firm understanding of what preceded us, you can shape where we are headed. A bachelor's degree in history means that you've learned which ideals, systems, and structures benefited mankind and which ones didn't, and that can ease your entry into almost any field, such as government, education, and business. Our Department of History faculty, which includes Pulitzer Prize winners and finalists, will work closely with you to advise you on the myriad opportunities awaiting you.
2021 Brooklyn College Haidt Lectures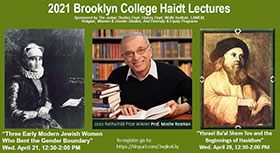 with Prof. Moshe Rosman, Winner, The Rothschild Prize in Jewish Studies, 2020
Professor Emeritus, Koschitsky Department of Jewish History and Contemporary Jewry, Bar-Ilan University
Three Early Modern Jewish Women Who Bent the Gender Boundary
Wednesday, April 21, 2021
12:30-2 p.m.
Yisrael Ba'al Shem Tov and the Beginnings of Hasidism
Wednesday, April 28, 2021
12:30-2 p.m.
Register for both events via Zoom
Sponsored by the Department of Judaic Studies, Department of History, the Ethyle R. Wolfe Institute for the Humanities, LAMEM, the Studies in Religion Program, Women and Gender Studies, and the Office of Diversity and Equity Programs.
LAMEM Spring 2021 Colloquia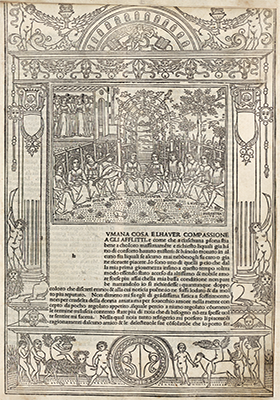 The Late Antique-Medieval-Early Modern Faculty Working Group at Brooklyn College presents their spring 2021 colloquia:
Tuesday, February 9: Medieval Scholarship, Cultural Identity and Jewish Disaffiliation: Erich Auerbach Reading Dante in National Socialist Germany
Wednesday, February 24: On Waiting in The Decameron and Medieval Literature
Thursday, March 25: On Gender in the Middle Ages
Wednesday, April 14: On Ecology, Animals, and Eschatology
Wednesday, May 5: You Can't Hurry Love: Medieval Christian Devotion
All events will be held on Zoom. Students and faculty are welcome.
Important Adviser Information
Contact Information
Department Chairperson: Philip Napoli
Undergraduate Deputy Chair: Swapna M. Banerjee
Location: 1105 Boylan Hall
Phone: 718.951.5303
Fax: 718.951.4504
Alumni Spotlight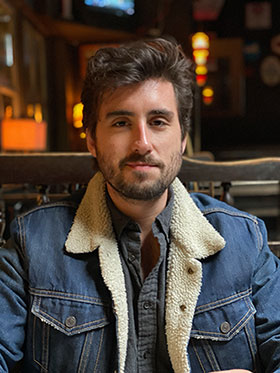 Kenneth Michael Spalla '21
Studying history and its associated disciplinary skills is key to being an active and informed citizen and engaged member of the electorate. Recent events in the nation's capitol have made it exceedingly clear that an honest reckoning of the past is crucial for the maintenance of our fragile democracy.