Christie Hoo Yee Leung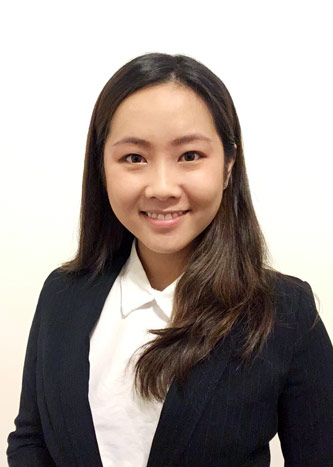 Speech and Hearing Science and Linguistics
I graduated from Brooklyn College in 2014 with a bachelor's degree in speech and hearing science and linguistics, and I am now in my final year in the doctor of audiology (Au.D.) program at the CUNY Graduate Center. My curiosity about other cultures led me to the New York area, a place with a large multicultural and multi-ethnic population. My highly adaptive nature to new environments and challenges motivated me to extend my compassion in the healthcare field and continue my education overseas, away from Hong Kong where I was born and raised. Blessed to have a supportive family who is willing to finance my education with out-of-state tuition, I moved to New York at age 17. My undergraduate years in the Speech and Hearing Science Program ignited my interest in audiology. Currently finishing my final year as an audiology resident at Weill Cornell Medicine, I am now one year away from becoming a licensed audiologist with a goal to provide patient-centered, hearing-related healthcare involving diagnostic evaluations, rehabilitative services, and balance evaluations to people in need.
Why did you choose Brooklyn College?
After graduating from high school in Hong Kong, I was interested in pursuing my undergraduate education in a multicultural environment and New York, where a family friend resides, was the place decided by my parents so they could feel comfortable sending me so far from home. Before deciding where to apply, I was looking for possible fields to explore. Being involved in healthcare has always been my passion, having always hoped to help people in need and give back to society. Communication is such an important aspect to promote quality of life, as it bridges the gap among individuals and connects people. The more I explored the field of speech language pathology, the more fascinated I became, especially with what it offers to patients. Therefore, I applied to multiple colleges within the City University of New York with a communication science program. Knowing that Brooklyn College had an advanced speech program, I accepted their offer without second thoughts, and I have never regretted my decision.
What is the best thing about Brooklyn College? What was the best thing about your major?
Here at Brooklyn College, I have the advantage of being exposed to people from all cultures and from all walks of life. Receiving my academic and clinical training in this diverse environment enables me to be more aware of others' customs and traditions and better prepares me to provide culturally appropriate hearing-related services in the future. Both my majors have a nationally and internationally recognized faculty, where everyone is encouraging and supportive to students to help them progress through the program. All professors on the faculty are passionate about their field of study and are welcoming to any questions students might have. They all unreservedly offer many additional learning opportunities, including workshops and internships, and cultivate each and every student to get the most out of the program. In addition, I was part of the student association of the Speech and Hearing Science Program, which introduced me to the National Student Speech, Language, Hearing Association (NSSLHA), a national organization for graduate and undergraduate students interested in the study of normal and disordered human communication. NSSLHA provides networking opportunities for students with similar interests to interact with each other. The student association also organized different Q&A sessions where they invited faculty members involved in the fields of speech-language pathology as well as audiology to answer students' questions. Those sessions were extremely helpful for graduating students to gather information, including credentials required as a speech-language pathologist/audiologist, prerequisites for graduate program application, licensure requirements, and future job opportunities. All of my uncertainties were resolved after attending those Q&A sessions, where I became more acquainted with what to do after acquiring my bachelor's degree.
How have Brooklyn College faculty helped in reaching your academic goals?
As I progressed through the speech program at Brooklyn College and began taking audiology introductory courses, I slowly realized that my interest lies in audiology. I found myself more drawn to the hearing side of communication and helping people with communication difficulties resulting from a hearing impairment. In an attempt to learn more about the practical side of audiology, I reached out to Dr. Dorothy DiToro, who taught my undergraduate audiology introductory class at that time, and inquired into possible opportunities to observe audio-logic diagnostic and rehabilitative appointments, since audiology practicum was not part of the speech and hearing science undergraduate curriculum. I was fortunate to be able to spend the entire summer shadowing doctoral students at the Brooklyn College clinic where they performed audiological evaluations and provided hearing-aid related healthcare. It was through this direct observation that I realized how passionate I am about this field. It also gave me a sense of what to expect, in terms of the provision of professional audiological services to patients and how hectic the clinical flow can be in the real world.
Dr. DiToro has been encouraging and supportive throughout my undergraduate and graduate education. It is her guidance and support that allowed me to be more affirmed in pursuing this career path. Now that I am in my last year of the Doctor of Audiology Program at the CUNY Graduate Center, she continues to guide me on how to become a better clinician. I am very grateful for all the opportunities, both clinical and research-related, she has given me since we first met back in the introductory course at Brooklyn College.