Krysteena Alloggio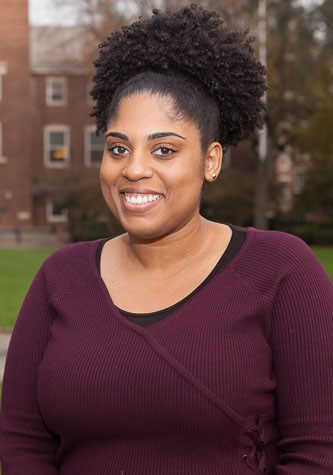 Speech Communication Arts and Sciences
Tell us something about yourself in a short paragraph: academic history, community work, interests. goals, etc.
I graduated from Kingsborough Community College and transferred to Brooklyn College to complete my undergraduate degree. Shortly after enrolling here, I joined Jumpstart, a nationally recognized volunteer organization dedicated to promoting pre-literacy skills in preschoolers located in low-income communities. In 2015, I graduated from the Department of Speech Communication Arts and Sciences with a concentration in speech-language pathology, audiology, and speech and hearing science. Currently, I am a second-year graduate student pursuing a master's degree in speech-language pathology while working as a writing tutor in the BC Learning Center. In addition, I provide speech-language assessment and treatment services to children and adults at Ahava Medical and Rehabilitation Urgent Care Center in Brooklyn as a part of my supervised clinical practicum. I am also in the process of completing an independent study investigating mental imagery and its association with idiom comprehension in adults.
Why did you choose Brooklyn College?
Brooklyn College was the most sensible school to attend because it was reasonably close to my home and part-time job. Also, I knew the process of transferring from Kingsborough Community College would be seamless because Brooklyn College automatically accepts students with a 3.00 GPA into its speech program. These factors, along with an affordable tuition, made Brooklyn College an easy choice to continue my academic goals.
What is the best thing about Brooklyn College? What was the best thing about your major?
I always appreciated the diversity of the student body at Brooklyn College. Aside from the cultural and ethnic diversity that is apparent throughout the campus, I often meet students at different stages in their life including second-degree students seeking a career change as well as transfer students from other colleges. As a nontraditional student, I can usually relate to them and share ideas. One of the best things I really love about my major is the opportunity I have to help adults and children with different communication challenges. Thus far, I have learned so much regarding different evaluation and treatment techniques for individuals with speech and/or language difficulties. Taken together, I feel confident that the overall diversity I experience at Brooklyn College, and the foundational knowledge provided by my program will help me become a well-rounded speech-language pathologist in the future.
How have Brooklyn College faculty helped in reaching your academic goals?
As a student at Brooklyn College, the faculty has helped me in so many ways. After my senior year, I did not get accepted into a graduate program. Needless to say, I was very disappointed, but I was strongly encouraged to apply again for the following year. I took my professor's advice to apply again and gain more experience by participating in research conferences at the state and national level in my field. Now as a graduate student I feel fully supported and more confident in pursuing my goal of attaining a Ph.D. in the future.