Katherine Hsu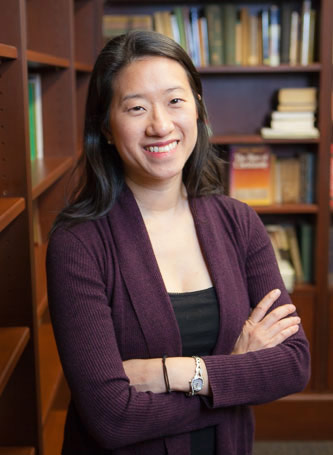 Classics
Years at Brooklyn College: 3
I was recently awarded a $1 million grant from the Stavros Niarchos Foundation to endow scholarships for underprivileged students at the Latin/Greek Institute. The Latin/Greek Institute, which I direct, is a Brooklyn College summer language program that provides over two years of typical college training in Latin and Greek in only 10 weeks. It is one of the most intensive language experiences available, and I am so excited to see how these scholarships will increase access to Latin and Greek for a diverse group of students.
What is so special about Brooklyn College and its students?
I am always struck by the diversity and open-mindedness of Brooklyn College students. I teach about the ancient Mediterranean world, and I love to see how students can use their own global backgrounds in understanding and connecting with the ancient world. For example, when I was teaching about Alexander the Great's military campaigns in Bactria last spring, one student made a connection between Alexander the Great and the "Sicander" mentioned in a common Hindi nursery rhyme. The student saw a relationship between the course material and her childhood and cultural background, and I learned something from her that I would not have been able to discover on my own. This to me was a quintessential Brooklyn College moment.