Shadiq Aadil Williams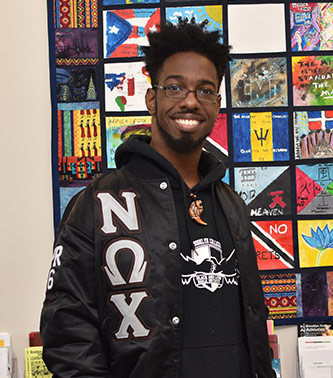 Multimedia Computing and Caribbean Studies (Dual Major)
Graduation Date: Spring 2017
I was born and raised in Brooklyn by my parents who came to New York City from Trinidad. By the sixth grade, I joined the Legrosports Judo Club and took second place representing the United States alongside them in the 2010 Barbados International Tournament. After officially retiring from judo in 2011, I became a founding father of the New Design High School Gentlemen's Group, which is a mentorship program for the young men of my high school. I taught myself graphic design along the way and decided to apply to Brooklyn College to invest in my growing interest in technology with hopes of eventually becoming an entrepreneur. Throughout my time as a Brooklyn College student, I became a student ambassador for the Black and Latino Male Initiative, was elected president of the NAACP club, joined Nu Omega Chi Community Service Fraternity, Inc., became the first student member of the First College Year Advisory Board, and co-founded the Brooklyn College Student Diversity Advisory Board — all while maintaining a 3.76 GPA. I owe all of these accomplishments to the greater Brooklyn College community that helped foster my growing investment in activism and my Caribbean heritage.
Why did you choose Brooklyn College?
I chose Brooklyn College because I knew I wanted to stay in my home borough for college after four years in the Lower East Side for high school. Brooklyn College had the best reputation that I knew of at the time and has a campus environment that I figured would give me a new way to experience Brooklyn and New York City as a whole.
What is the best thing about Brooklyn College? What was the best thing about your major?
The best thing about Brooklyn College is the number of communities, networks, and support systems within the college. There is a space for any and every one and opportunities to create your own spaces if you cannot find one. Being around people from so many different walks of life gives you new perspectives and resources that you may not have had access to otherwise. The best thing about being a student of both the Computer and Information Science Department and Caribbean Studies Program is that I leave Brooklyn College well rounded and prepared for a competitive job market with a sense of self-identity that I did not have before. The computer science curriculum helped me explore an interest and develop skills for my future in STEM, while Caribbean studies gave me an opportunity to learn my history and who I am as a young Afro-Caribbean American man.
How have Brooklyn College faculty helped in reaching your academic goals?
I attribute every single one of my successes as a Brooklyn College student to faculty as well as the Black and Latino Male Initiative and Division of Student Affairs. My academic success came with the identity I developed under the mentorship of people I could identify with within these networks. They pushed me to learn my history and stand firm in my sense of self, which gave me the confidence I needed to excel.