Admissions
The Rona Jaffe Foundation Establishes Fellowships in Creative Writing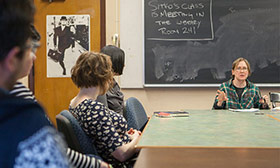 "The Rona Jaffe Foundation is very pleased to provide support to Brooklyn College in the form of these fellowships to incoming female graduate students in the M.F.A. program," said Beth McCabe, director of The Rona Jaffe Foundation Writers' Awards and a board trustee. "They will, we hope, not only provide much-needed funding within the program, but also help attract the strongest writing candidates to apply."
Deadline: January 15, 2019
Applications are accepted only for the fall semester and must be submitted by our postmark deadline of January 15, 2019.
Requirements
Applicants must meet Brooklyn College requirements for admission to the Division of Graduate Studies; hold a baccalaureate degree from an accredited institution; and have completed an approved undergraduate program of study—including at least 12 credits in advanced courses in English—with a minimum average of B. Applicants who do not meet course requirements but whose manuscripts show unusual talent are considered for admission.
Applicants to the creative writing program in fiction or poetry must have completed at least 12 credits in advanced courses in English as undergraduates. Those applying to the playwriting program must have completed 12 credits in advanced courses in English or theater.
Applicants whose native language is not English are required to pass the Test of English as a Foreign Language (TOEFL) with a score of 650 on the paper test, or 280 on the computer-based test, or 114 on the internet-based test.
Applicants are required to submit an online application form, official transcripts, two letters of recommendation (we strongly prefer receiving these letters via our online application system), a manuscript in the genre they intend to pursue (for fiction, about thirty pages; for poetry, about twenty pages; for playwriting, one full-length play, or two or more one-act plays), and a personal statement (one to two pages). In addition, a personal interview may be required.
Manuscripts and Personal Statements
Manuscripts and personal statements must be mailed to the Department of English. All other materials must be sent to the Office of Admissions. See detailed instructions and addresses below. Due to the high volume of applications, it is of utmost importance that you follow these instructions properly in order to ensure comprehensive consideration.
Manuscripts and personal statements only should be sent to:
Professor James Davis
Deputy Chair for Graduate Studies
Department of English
Brooklyn College
2900 Bedford Avenue
Brooklyn, New York 11210-2889
Manuscripts must include the following information: your name, address, telephone number, e-mail, and the program to which you are applying (fiction, playwriting, poetry).
Manuscripts will not be returned.
Full Applications
Refer to the Graduate Admissions How to Apply guide.
All other application documents (transcripts, letters of recommendation not submitted online, check) should be provided by applying online, or by mail:
Office of Admissions
Brooklyn College
2900 Bedford Avenue
Brooklyn, New York 11210-2889
Applications not accompanied by an application fee will not be considered. To check the status of your application, visit the My Enrollment Application Status Check.