Judaic Studies
Explore the tremendous scope and diversity of the Jewish experience. 
You find the study of Jewish civilization engrossing, from its ancient Middle East roots to the many places in which it flourishes today. You'd love to conduct research at one of the many museums and cultural institutions in New York, or go farther afield and study in Israel. The Department of Judaic Studies offers a wide variety of experiences, from internships at the Museum of Jewish Heritage, to research under the guidance of one our renowned faculty members, to summers of intensive Yiddish studies at places like Tel Aviv University. Our graduates go into a variety of careers in education, research, social work, policy planning in the private and public sectors, diplomacy and government, and are prepared for graduate studies in any number of fields.
Fall 2016 Courses
Explore the exciting Judaic Studies course offerings for fall 2016!
Contact Information
Department Chairperson: Sara Reguer

Location: 3111 James Hall
Phone: 718.951.5229
Fax: 718.951.4703
The Annual Frances Haidt Lecture Series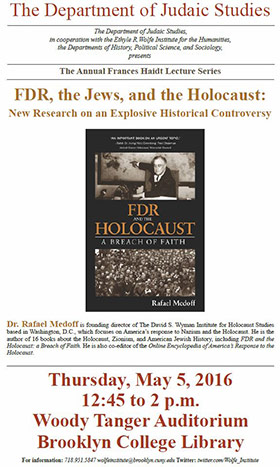 The Department of Judaic Studies, in cooperation with the Ethyle R. Wolfe Institute for the Humanities and the departments of History, Political Science, and Sociology,
presents
FDR, the Jews, and the Holocaust: New Research on an Explosive Historical Controversy
with Dr. Rafael Medoff, founding director of The David S. Wyman Institute for Holocaust Studies based in Washington, D.C.
Thursday, May 5, 2016
12:45 to 2 p.m.
Woody Tanger Auditorium, Brooklyn College Library
More Information
718.951.5847
wolfeinstitute@brooklyn.cuny.edu
Twitter: twitter.com/Wolfe_Institute