Faculty Authors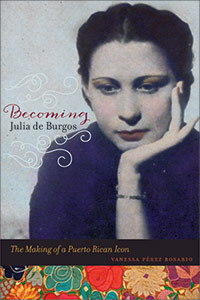 Vanessa Perez Rosario
While it is rare for a poet to become a cultural icon, Julia de Burgos has evoked feelings of bonding and identification in Puerto Ricans and Latinos in the United States for over half a century.
In the first book-length study written in English, Vanessa Pérez-Rosario examines poet and political activist Julia de Burgos's development as a writer, her experience of migration, and her legacy in New York City, the poet's home after 1940. Pérez Rosario situates Julia de Burgos as part of a transitional generation that helps bridge the historical divide between Puerto Rican nationalist writers of the 1930s and the Nuyorican writers of the 1970s. Becoming Julia de Burgos departs from the prevailing emphasis on the poet and intellectual as a nationalist writer to focus on her contributions to New York Latino/a literary and visual culture. It moves beyond the standard tragedy-centered narratives of Burgos's life to place her within a nuanced historical understanding of Puerto Rico's peoples and culture to consider more carefully the complex history of the island and the diaspora. Pérez Rosario unravels the cultural and political dynamics at work when contemporary Latina/o writers and artists in New York revise, reinvent, and riff off of Julia de Burgos as they imagine new possibilities for themselves and their communities.
Alan A. Aja
This book explores the reception experiences of post-1958 Afro-Cubans in South Florida in relation to their similarly situated "white" Cuban compatriots. Utilizing interviews, ethnographic observations, and applying Census data analyses, Aja begins not with the more socially diverse 1980 Mariel boatlift, but earlier, documenting that a small number of middle-class Afro-Cuban exiles defied predominant settlement patterns in the 1960 and 70s, attempting to immerse themselves in the newly formed but ultimately racially exclusive "ethnic enclave." Confronting a local Miami Cuban "white wall" and anti-black Southern racism subsumed within an intra-group "success" myth that equally holds Cubans and other Latin Americans hail from "racial democracies," black Cubans immigrants and their children, including subsequent waves of arrival and return-migrants, found themselves negotiating the boundaries of being both "black" and "Latino" in the United States.