Program News
Three BC Students Receive Prestigious Salk Awards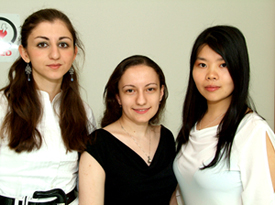 Brooklyn College students were winners of three out of the eight Jonas E. Salk Scholarships awarded this year. The Salk scholarships are given to outstanding CUNY students planning careers in medicine and the biological sciences. 
Liliya Gershengoren, Jewel Liao and Becky Naoulou received their citation and a medical diagnostic kit at an award ceremony for the scholars on May 15 at CUNY's Bernard M. Baruch College. The students will also receive a stipend of $8,000 to defray the cost of medical school.
"Over the next decade or so, medicine is going to change drastically," Arnold Melman, president of the Society of Salk Scholars, told the students at the award ceremony. "I hope you will be on the forefront of that."
The awardees are selected on the basis of original scholarship they have undertaken with mentors who are prominent scientists. The recipients are deemed likely to make significant contributions to medicine and medical research.
Gershengoren, a psychology major in the Coordinated B.A.-M.D. Program, conducted her research with psychology professor Jonathan Keigher on how individuals cope with terrorism and posttraumatic stress. Liao, a biology major who has participated in two clinical research projects, was also honored as the only Salk Scholar to get an internship this summer at the Salk Institute and Vision Center Laboratory in La Jolla, Calif.. Her mentor was biology professor Jurgen E.W. Polle. Naoulou, also a biology major, conducted research on developing new ruthenium drugs for the treatment and potential cure of some types of cancer with chemistry professor Roberto Sanchez-Delgado.
"This award has helped recipients launch careers and realize dreams," Selma Botman, CUNY's executive vice chancellor for academic affairs and university provost, told the students.
The Salk Scholarship is considered one of the most prestigious scholarships bestowed on a CUNY graduate. Salk, a 1934 City College graduate who developed the polio vaccine in 1955, turned down a parade in honor of his discovery and instead asked that the money be used for scholarships.
The scholars are selected by a panel of distinguished physicians — all Salk alumni — based on the quality of their research, academic excellence and recommendations by professors and mentors.