Ruth Gruber, Photojournalist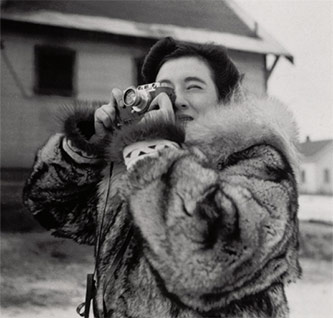 This exhibition celebrates the remarkable life, vision and heroic tenacity of Ruth Gruber, a 20th-century pioneer and trailblazing photojournalist, now in her 104th year. Born to Jewish immigrants in Brooklyn, Gruber became the youngest Ph.D. in the world, at age 20, with a dissertation of Virginia Woolf. As a photojournalist, in 1935–36, she documented explorers and native people in the Soviet Arctic and was the first journalist to describe the Siberian Gulag. Using recently invented color film, she photographed and reported on the Alaskian frontier in 1941–43, capturing the lives and customs of the native population, and the conditions of American soldiers. During the Second World War, in 1944, Gruber was assigned a secret mission to bring nearly 1,000 Jewish refugees from Europe to the United States. Her exclusive photographs documenting the harrowing voyage of the ship Exodus, 1947 were sent internationally via wire services and helped transform attitudes toward the plight of the refugees. Gruber's life and work have been inextricably bound to the lives of refugees and dedicated to rescue, sanctuary and liberation. Gruber, a witness to history, is the acclaimed author of 20 books. It is an honor for the Brooklyn College Library to host this profoundly moving exhibit.
Special thanks to Patti Askwith Kenner for her generous support of Ruth Gruber, Photojournalist at Brooklyn College. The donation is in memory of Miriam Teidor Askwith who attended Brooklyn College.
This exhibition is a traveling exhibition of the International Center of Photography, New York, and was made possible by friends of Ruth Gruber, Brooklyn College, Brooklyn College Alumni Campus Chapter, Department of Judaic Studies, CreaCoInitiative and Tanger Hillel at Brooklyn College.
Exhibit on View
October 1, 2015 – February 12, 2016
Art Gallery, Brooklyn College Library
Opening Reception
October 8, 2105
5 – 8:30 p.m.
Remarks by Brooklyn College President Karen L. Gould at 5:15 p.m.
Special screening of the film Ahead of Time: The Extraordinary Journey of Ruth Gruber at 7 p.m.
Watch the DVD
You can check out the DVD of Ahead of Time: The Extraordinary Journey of Ruth Gruber and reserve a viewing room at the BC Library New Media Center.
NPR Interview with Ruth Gruber
Ruth Gruber, Photojournalist
Organized by the International Center of Photography, this exhibition is currently traveling around the United States.
Ruth Gruber's Publications
The library has nearly all of Ruth Gruber's 20 books.
More Information
Professor Miriam Deutch
E: miriamd@brooklyn.cuny.edu
P: 718.951.5221
Art Gallery | Brooklyn College Library
2900 Bedford Avenue
Brooklyn, NY 11201