Discussion focuses on the future of authentic Caribbean culture in a world of increased globalization.
/web/new_2017news/170510_DCC_Candace_94x84.jpg
Artists-in-Residence Dance Caribbean Collective Host Town Hall Meeting on Cultural Appropriation
May 10, 2017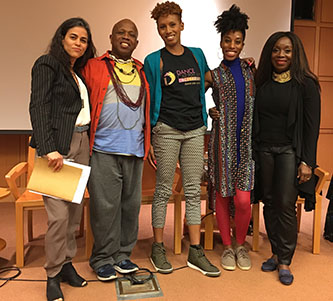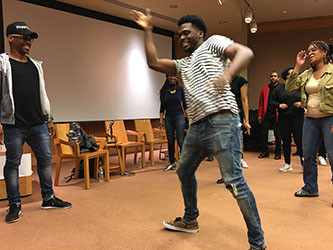 On May 4 Dance Caribbean Collective (DCC), which has been in residence at Brooklyn College as part of the CUNY Dance Initiative, and which will culminate in the collective's annual New Traditions Festival in June during Caribbean Heritage Month, held a town hall meeting at Woody Tanger Auditorium.

Created in partnership with the artist-led initiative Dancing While Black and made possible through the Brooklyn Center for the Performing Arts, the town hall focused on cultural appropriation, an issue that has come increasingly to the fore in the age of globalization. "In today's world everyone has an almost equal platform [through social media] so anyone can set themselves up to be a leader in the field, an expert," said DCC founder and artistic director Candace Thompson, who is from Trinidad and Tobago. "There is a lot of distraction as to what exactly our narrative is. The things that are more popular don't necessarily reflect the source of origin."
Joining Thompson to discuss what is at stake and what role artists, entrepreneurs, and audiences can play in maintaining and preserving the culture were Jessica Phoenix, artistic director and choreographer of FIYAH Dancehall Theater; Michael Manswell, artistic director of Something Positive, an arts and education organization dedicated to the culture of the African Diaspora and its cross-cultural influences; and Valerie McLeod-Katz, artistic director and coordinator of the visual and performing arts programs at Medgar Evers College Preparatory School. The town hall was moderated by Sita Frederic, director of community and family programs at Lincoln Center Education and artistic director at Areytos Performance Works.
McLeod-Katz, who has also been a production manager for the West Indian American Labor Day Parade, believes that Caribbean dance styles should namely be taught by those who are steeped in the cultures of the Caribbean, and who can hand down the histories. But she does not believe that that should exclude artists who are not from the West Indies. "When we talk about appropriation, there is this other side. Someone who has embraced [Caribbean culture] and internalized it and said 'this is where I'm going to be. I'm going to study it.' I have to encourage [because] here is a healthy respect."
Dance Caribbean Collective is dedicated to promoting and facilitating Caribbean Dance works, performances and cultural experiences in the Caribbean Diaspora, with an emphasis on the Brooklyn community. On May 18 the DCC will be offering a community dance class in honor of Haitian Flag Day. As artists in residence at Brooklyn College, members of the DCC have been rehearsing for The New Traditions Festival 2017, a three-night event featuring local Caribbean choreographers and dancers. The theme for this year's festival "Our Caribbean Spirit," will include a collaborative community dance project that tells the story of various island cultures. Click here for more about Dance Caribbean Collective from its founder.
Founded in 1954, Brooklyn Center for the Performing Arts at Brooklyn College presents outstanding performing arts and arts education programs, reflective of Brooklyn's diverse communities, at affordable prices. Each season, Brooklyn Center welcomes over 65,000 people to the 2,400 seat Whitman Theater, including up to 45,000 schoolchildren from over 300 schools who attend their SchoolTime series, one of the largest arts-in-education programs in the borough.
Back to BC News