Pre-law student Jessica Betancourt hopes to make an impact on remedying some of society's more pressing issues.
/web/new_2022news/Betancourt_thumbnail.jpg
#BCGrad2022: Jessica A. Betancourt
May 26, 2022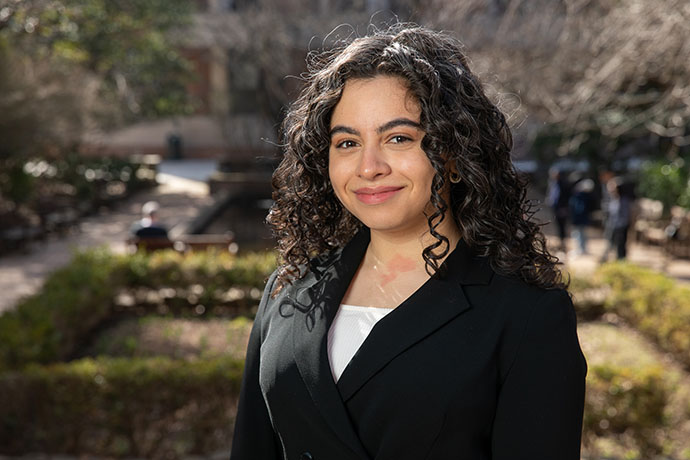 Pre-law student Jessica Betancourt hopes to make an impact on remedying some of society's more pressing issues.

Graduating this spring as Phi Beta Kappa member with a B.S. in psychology and minors in neuroscience and political science, Macaulay Honors student Jessica A. Betancourt says experiencing the legal process as an intern piqued her interest in a career in public law.
When did you become interested in law?
I served as the captain of Fort Hamilton High School's law teams. I was able to fine-tune my public speaking, writing, and reasoning skills, but the most incredible experience was that I got to participate in a moot court competition at the Peace Palace in The Hague in the Netherlands. It was in front of a team of judges who sat on the International Criminal Court. It was there that I became committed to learning about international humanitarian law.

As a pre-law student, you majored in psychology? What made you choose that field of study?

I was interested in studying psychopathic traits and criminality. I've been examining relationship differences between primary and secondary callous unemotional adolescents—two variants of the psychopathy dimension. I think that violent crimes and prison recidivism can be reduced by identifying and addressing the biological and social roots of these particular psychopathic traits and implementing tailored and early intervention.

Have you received any awards?

I received the Stanley Geen Memorial Award. It's a grant used to finance pre-law internship and fellowship stipends and tuition fees for LSAT prep courses. Because of the award, I was able to complete an internship at the office of New York City Comptroller Scott M. Stringer. Working there sparked my interest in public interest law. I am so grateful for the opportunities that have opened up for me because of awards like this.

Any other experiences at Brooklyn College that stand out?

I am a student representative for the Psychology Department's curriculum committee. I also did work in Professor Ana Gantman's lab in human morality and in the psychophysiology lab led by Associate Professor of Psychology Yu Gao.
In May of last year, I was an intern at the United States Attorney's Office for the Southern District of New York. I was allowed to assist in ongoing investigations and trial preparation. It was my most informative experience outside of the classroom. It was amazing to be in the courthouse all the time and gain hands-on experience with cases.

What are your plans?

I have been accepted to Columbia Law School through early admissions and will attend in the fall. I plan on pursuing a juris doctorate and a Ph.D. in psychology. I want to use all of the access, knowledge, and experience I gain to be able to make a difference in chronic issues like crime, poverty, and human rights violations. I'll know that I'm successful when my work has a much more significant impact, far beyond what I can do now.
Back to BC News