Actor and model Justiin Davis is under no delusions about how his success was achieved and the many individuals to whom he owes thanks.
http://www.brooklyn.cuny.edu/web/new_2012news/120201_The_Debt_94x84.jpg
The Debt
Feb. 2, 2012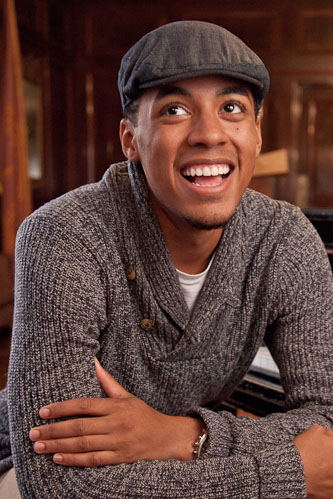 Justiin Davis '12 knows one thing for certain: Despite mythical tales of pulled boot straps and self-made men, no one can make it on his own. It isn't merely talent, imagination, intelligence and drive that set one on the path to greatness. Many influences, circumstances, institutions, opportunities and people provide advantages that often go unrecognized. Ego makes it rather simple to imagine success as a wholly personal enterprise. Despite the temptation, Davis, who debuted this season on the critically acclaimed, Emmy Award–winning HBO series Boardwalk Empire, remains honest and realistic about his journey.
"My family," he responds when asked what he believes is the secret to his success. "Whatever it was I dreamed, they always supported me."
The child of an African American/Native American mother and Italian/Spanish father, Davis was raised by a veritable village: a grandmother, four uncles, four aunts and a host of cousins who were more like siblings. It was, in fact, one of his aunts, Rosalin Davis, who first noticed his potential and began to take Justiin out to various entertainment agencies to secure work as an actor — beginning at the tender age of three.
"You could just take one look at him and see that there was something special there," Rosalin beams. "I remember the first time I took him out for an audition. I think it was for an HMO commercial. Justiin walked right up to the receptionist's desk, stood on his tippy-toes, held on to the desk and said to her, 'I want to be on TV!' We knew right then. Everyone was so impressed."
Davis' family took care of him in lieu of his mother and father, both of whom had succumbed to the devastation of the crack epidemic in the late 1980s. Still, his mother had the wherewithal to put him up for adoption, hoping he'd have the kind of life that, at the time, she couldn't provide. But so strong were the bonds of his family that it was his grandmother who insisted on adopting him. She wanted to ensure he had a stable upbringing, surrounded by a loving, supportive family. She provided him every advantage she could, which to her meant Davis would be in church every Sunday and would receive a parochial education rather than a public one.
"She's from the South," Davis says of his grandmother, with whom he still lives. "She is all about the family, and because of that I owe her a tremendous debt."
It wasn't until Davis stepped outside of the nurturing, protective influence of his family that he encountered individuals who believed his circumstances were more of a hindrance than an asset. Once the other children, and some of the adults, became aware of his background, they made negative assumptions about his prospects.
"I didn't understand people's insistence that there was something wrong with being raised by family members other than your mother and father, so their judgments about my family dynamic felt erroneous, insulting and strange," Davis confides. "People would say 'You think that a poor, black kid from the projects is going to be on TV? You know, you have a big imagination. That's not going to happen.' People with little faith in their own dreams will have little faith in yours."
And Davis holds no ill will toward either of his parents, both of whom re-entered his life in his late teens.
"I have nothing in my heart but acceptance and forgiveness. And rather than what I may have lost, I look at what I've gained. My father has two other children. I now have two siblings and two beautiful nieces."
This is the same attitude he applies to the industry in which he works. Not particularly known for its groundbreaking portrayals of racial minorities, Hollywood can be a tough place for an up-and-coming actor of color. None of this is lost on Davis. Still, he strives to see the silver lining. 
"It's true. As a black actor, you're usually cast as 'drug dealer' or 'black person who kills the other black person.' That just seems so one sided to me — especially since I'm a witness to the fact that there are so many people from 'the hood' who defy these stereotypes. I definitely see the lack of creativity, which, to me, makes roles like the one in Empire a rare blessing. I consider myself very fortunate in that regard." 
Further, Empire has given him the opportunity to work with luminaries such as Martin Scorsese and Michael K. Williams, best known for his role on another critically acclaimed HBO series, The Wire. Davis says Williams has not only been supportive, but an inspiration. 
Even after landing this enviable role (he has received mentions in Time and the Huffington Post), Davis insists on forward movement. He has a host of commercial work lined up, including a spot for Coca-Cola and two for JCPenney. And one project he's working on has the potential to be his big breakthrough.
"I can't really speak publicly about it yet. But it's a major franchise, and I have one of the lead roles. It's the kind of role that you don't often see people of color inhabit. This is the chance of a lifetime. I'm very excited about it."
He has a bit of advice to other young people of color from circumstances similar to his own who have grand aspirations.
"Don't believe what the naysayers say about you. You must surround yourself with people who believe in you and support your dreams. If not your family, then your friends. If not your friends, then your teachers. If not your teachers, then your colleagues. Keep seeking until you find your community."
Back to BC News