Aspiring cinematographer Eddie Bernard credits Brooklyn College with his path to success.
/web/new_2012news/120416_EddieBernard_94x84.jpg
Filmmaking Student on the Rise
April 16, 2012
In his dark New York tale of love, murder, revenge and prostitution, Eddie Bernard displays all the skills he has learned at Brooklyn College that are helping him fuel his filmmaking career.
Dead Riser was runner-up last year in the Alphabet City Dolly Film Festival, beating 500 other entries in the Best Short category. It was created by Brooklyn Studio Lab, a small production company that Bernard and a couple of friends started two years ago. In addition to the film, they have produced an off-off-Broadway production of Edward Scissorhands. 
A National Hispanic Scholar, Bernard joined Brooklyn College after graduating with honors from the Borough of Manhattan Community College (CUNY) with an associate's degree in liberal arts. Now in his final year as a film-production major, he says that everything he has learned and will continue to learn is useful. "My entire program is amazing. It helped me get into the field much faster. I'm on professional sets now and go to school at the same time." 
Bernard constantly applies his knowledge from class to the freelance jobs he does for production companies. "When I go to work, everything I learned in class is being used. If I didn't take these classes I would have had to learn everything on set, and that probably would have taken 25 years," he says. He is thrilled that the curriculum has helped him quickly progress in the realm of filmmaking.
Bernard's interest in film stemmed from his involvement in another part of the entertainment industry. "I used to be an actor when I was younger," says the 30-year-old, "and that inspired me to be in the business. I wanted to be on the other side of the camera."
Bernard got his start with videography by covering performances for Urban Ballet Theater, a ballet company he used to dance for, and has been expanding his projects ever since. "I tend to make lots of shorts and music videos, but I haven't worked up to features yet," he explains. "I like to film personal pieces: ones about artistic things, life and death, and crossroads. Gritty city life is what inspires me."
A 20-year resident of the Lower East Side, Bernard finds inspiration in his community as well. He uses a lot of dancers in his projects because of his work with the Abrons Arts Center, a performance school founded by the Henry Street Settlement, a nonprofit organization he's been helping for more than six years.
He continually uses his passion for film to enhance his neighborhood. Last summer he taught young teenagers the basics of filmmaking at a summer camp hosted by Abrons. This summer, he will be teaching the course again as well as an advanced class for 16-year-olds. "These programs are part of a new curriculum that I'm starting in video production for low-income families as an outlet for kids to try to do something with their lives or maybe spark an interest in them," he states. He is proud that his education has allowed him to do this. "I was teaching the kids what I learned first semester, and now I'll be teaching them things I learned second semester. It's all trickling down. Things have come full circle; I'm giving back."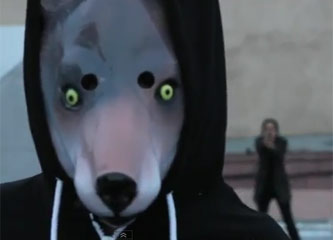 Bernard's film studies at Brooklyn College are funded by the Congressional Hispanic Caucus Institute (CHCI) and Telemundo. He was awarded a scholarship in 2010 and 2011. In addition to covering some tuition costs, CHCI has provided Bernard with other educational opportunities. Last summer he interned with NBC, a partner of Telemundo, and at the start of this year he was featured on TV. Bernard, who is of Puerto Rican heritage, also participated in an NBC panel discussion on Jan. 30 about Latino education that included six other scholar students of different majors. "We were picked because we had stories to tell. We talked for 45 minutes about the struggles and hardships of being young. Guest speaking was a great feeling," he says.
Besides attending class and working, Bernard still acts on occasion. At age 21, he was introduced to Ingrid French, of Ingrid French Management. She instructed him to take acting classes and became his agent after he completed a six-month course at Penny Templeton Studio. He landed the first role he auditioned for, a part in Stay Until Tomorrow, an award-winning film developed at the Sundance Film Institute. "I was a main principal," he says. "It was amazing."
Bernard, who is still represented by French, goes to auditions when he can, but he says he's too busy filming to concentrate on acting." However, he occasionally makes time for a noteworthy role. He will be featured as a villain in the April 25 episode of Law & Order: Special Victims Unit. "I beat out 50 other guys for the role. It's a few lines but a lot of face-time, so that's good," he says.
Bernard is currently working on his submission to this year's ABCD Film Festival and is writing the script to what he wants to film for his thesis. He expects to graduate after the fall 2012 semester and plans on going to school for his master's degree immediately after, with the ultimate goal of becoming a cinematographer.
Regardless of his success behind or in front of a camera, Bernard's main focus is his education. "I love school. I have a lot of friends in different schools who say Brooklyn College's Film Department is one of the best," he says. "Every year the film program gets more in depth."
Back to BC News