Trina Lynn Yearwood of the School of Education delivers talk in support of inclusive education at the annual U.N. Convention on the Rights of the Child.
http://www.brooklyn.cuny.edu/web/new_2014news/141218_Yearwood_94x84.jpg
Brooklyn College Education Professor Receives Standing Ovation at United Nations
Dec. 29, 2014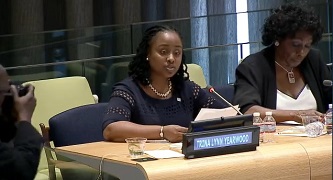 Trina Lynn Yearwood '00 was an invited speaker at the United Nations (U.N.) symposium on "Education as an Imperative for a Transformative Post-2015 Sustainable Development," which took place in November. The event honored the 25th anniversary of the U.N. Convention on the Rights of the Child, celebrated each year on November 20 as Universal Children's Day.
"As an educator who prepares future and practicing teachers for the classroom, I want to focus on the preparation of culturally competent teachers as an imperative for sustainable development," Yearwood told an audience that included dignitaries from across the globe. "Of the 40 Schools of Education that I have researched, only 20 percent speak to cultural competence in their mission statements. A culturally competent teacher "'understands culture and its role in education, takes responsibility for learning about students' culture and community, uses students' cultures as a bases for learning, and promotes flexible use of students' local and global cultures,'" she explained, quoting education scholar Gloria Ladson-Billings.
Yearwood, a former high school English teacher and literacy coach, is an adjunct assistant professor in the School of Education's Department of Childhood, Bilingual, and Special Education, and in the School of Humanities and Social Sciences' Department of Africana Studies. She also plays a significant role in the Brooklyn College Urban Community Teachers (UCT) Program.
Founded in 2009, the UCT program was designed to address some of the gaps in learning experienced by minority children by training teachers to be aware of the diverse cultures in their classrooms. Through active research, problem-based experiences, and open dialogue, the scholars in the UCT program learn strategies to make education accessible and relatable to their students. Research has shown that culturally competent educators have a quantifiable positive effect on their students' academic outcomes.
According to a 2013 report by the New York City Department of Education that appeared in the Wall Street Journal, Brooklyn College sends the highest percentage of qualified teachers into the New York City public school system—more than any other university in the state. The Princeton Review ranked the college's School of Education among the top 20 "Best Values" in the country. Most recently, the college was named one of The Root's colleges and universities most successful at graduating low-income black students.
"Cultural competence is vital to building community and developing key relationships with important stakeholders, including parents," Yearwood told the U.N. audience. She then went on to detail how the Department of Childhood, Bilingual, and Special Education collaborates with P.S. 159 in East New York, Brooklyn through CLASSact (Collaboration, Literacy and Social Studies), a "performance-based program that incorporates the arts into learning and prepares Brooklyn College's elementary-teachers-in-training with competencies for using the creative arts to enhance literacy development and social studies learning of K–5 students."
The U.N. symposium on education was hosted by the Permanent Mission of Grenada in collaboration with the Friends of Education for African Children Orphaned by AIDS, Medgar Evers College, and the University of the District of Columbia.
Back to BC News