The Conservatory of Music professor's album, The Offense of the Drum, wins in Best Latin Jazz category.
/web/new_2015news/150211_Arturo_94x84.jpg
Arturo O'Farrill '96 Celebrates Third Grammy Win
Feb. 11, 2015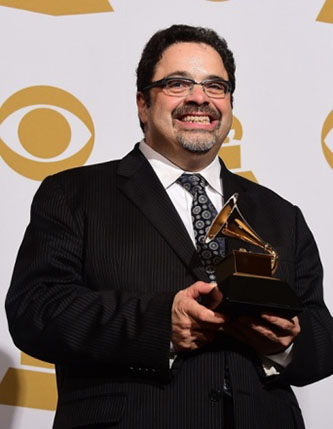 Afro-Latin Jazz composer and bandleader Arturo O'Farrill '96, a professor at the Brooklyn College Conservatory of Music and a two-time Latin Grammy-Award winner, became a triple award winner at the 57th Grammy Awards ceremony earlier this month. The Offense of the Drum, his first album with Motema Music, won in the Best Latin Jazz category.

"This award is special because The Offense of the Drum represents a departure from 'typical' Latin jazz. It is pan-American, contemporary—it even includes the first recorded example of reggaetón jazz—and features 37 different types of drums," says O'Farrill, who joined the Brooklyn College faculty in Fall 2014 as the director of its jazz ensembles. "What an honor for me and my musicians and my family, but especially for my father, who is no longer with us. He never received an award so this Grammy really belongs to him."

A pianist who has taught at several institutions, O'Farrill is the son of legendary Cuban composer Chico O'Farrill, who blended bebop with Afro-Cuban rhythms and shades of classical music. With his Afro-Latin Jazz Orchestra, Arturo O'Farrill received a Latin Grammy in 2008 in the Best Jazz Album category for Song for Chico, a tribute to his father, released by Zoho Music. In November 2014, O'Farrill won another Latin Grammy for Final Night at Birdland, an album he recorded in 2011 with his father's Afro Cuban Jazz Orchestra, celebrating the band's final performance after 15 years of residence at the famous Broadway venue.

By then, however, O'Farrill had already established his own Afro Latin Jazz Orchestra to bring the vital musical traditions of Afro Latin jazz to a wider audience and to expand the contemporary Latin jazz big band repertoire by commissioning jazz and Latin jazz artists across a wide stylistic and geographical range. An educator at heart, O'Farrill also established the Afro Latin Jazz Alliance in 2007 as a new institutional support for his orchestra, and to promote that genre of music through a comprehensive array of performance and educational programs.

The Offense of the Drum incorporates hip-hop, DJ techniques, and the spoken word. According to the San Francisco Examiner, in O'Farrill's winning album "the drum takes center stage as the orchestra uses nearly 35 types of percussion to explore new territories for Afro Latin jazz." Joined by such jazz and pop luminaries as Jason Lindner, Vijay Iyer, DJ Logic, rapper Chilo, Donald Harrison and Colombian harp star Edmar Castañeda, O'Farrill features percussion instruments from many parts of the world, including the taiko drum from Japan, djembe from Africa, barriles and bombas from Puerto Rico, tumbadoras from Cuba, bombos from Colombia, cajones, maracas, bongos, shekeres, claves, cowbells, cuicas, tambourines, timbales and turntables.

"This recording is a celebration of difference, innovation and the human spirit," O'Farrill adds. "For it to find mainstream acceptance and be embraced in this manner says that art matters more than comfort and commerce."

Back to BC News