MacArthur "genius award" winner aspires to strengthen the voice and vision of young writers.
/web/new_2015news/150218_Dinaw_Mingestu_94x84.jpg
Literary Luminary Joins Brooklyn College Faculty
Feb. 18, 2015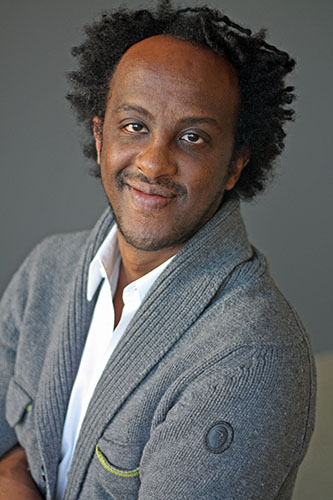 Dinaw Mengestu is a bona fide literary A-lister. His first three novels were published to broad acclaim, earning him accolades from the the National Book Foundation, which presents the National Book Award, The New Yorker, and the New York Times. In 2012, the MacArthur Foundation bestowed him with their "genius award."
Yet one of the distinctions he's most proud of these days is that of professor. Mengestu—who has taught on the college level for a number of years, most recently at Georgetown University—joined the Brooklyn College faculty last semester after getting a call from Professor Joshua Henkin, who coordinates the M.F.A. in Fiction program.
"I thought I would stay at Georgetown or go back to France," says the Ethiopian native, who was raised in a suburb of Chicago and has lived in France. Mengestu has also traveled extensively as a freelance journalist.
But he had a natural affinity for New York and realized it would be a great opportunity to teach at an institution with a renowned creative writing program and a truly diverse undergraduate population.
"I get to teach undergraduates how to think and control language. With graduate students, it's about how to turn their work into a novel or collection of short stories," he says. "I really wanted to have a balance between those two."
Mengestu took the literary world by storm when his debut novel, The Beautiful Things That Heaven Bears (Penguin Riverhead, 2007), was published. He followed that with How to Read the Air (Penguin Riverhead, 2010), at which point, he was stacking up many high-profile awards and regularly appearing on "best young writers" and "ones to watch" lists in influential publications. He did some reporting on conflicts in Africa for publications like Rolling Stone and Harper's Magazine before penning his third novel, All Our Names (Knopf, 2014).
His books feature Africans of the diaspora who are finding their place in America, and have been hailed as enriching and nuanced enough to add to the already large cannon of novels dealing with the immigrant experience, a theme Mengestu says is universal.
"I'm acutely aware that you don't have to be an immigrant to experience isolation. Immigrants have a more poignant way of expressing that but I believe at the end of the day, we are all fundamentally the same," he says. "We all go through great loss. We all have to figure out who we are."
For Mengestu, that journey partly meant figuring out how to straddle the culture his family brought with them to Peoria, Ill., and the one he was growing up in, a theme that is constant throughout his books.
He is now working on his fourth novel, which he says will deal with some different themes. "I'm sitting on this one longer," he says. "I'm still rearranging pages and trying to figure out what the stories are trying to tell me."
In between chapters, he has plenty of other concerns.
"I've got some really good undergraduate papers to read," he says. "That and my two kids keep me pretty full."
Back to BC News