His generous gift will support leadership and mentoring programs in the Brooklyn College Black and Latino Male Initiative.
/web/new_2015news/150226_HerbKurz_94x84.jpg
Legacy of Herbert Kurz '41 Lives On
Feb. 27, 2015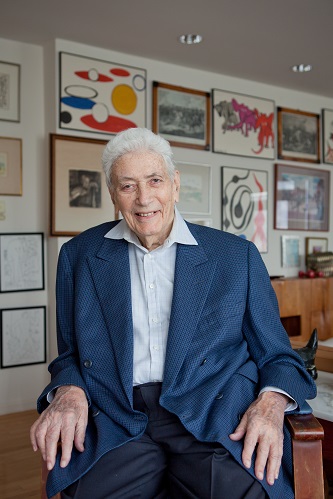 When Herbert Kurz '41 (1920–2014) made two generous donations to the Brooklyn College Black and Latino Male Initiative (BLMI), the first for $99,000 and the second for $1 million, he intended for the funds to be used in a way that would create a solid academic foundation and political consciousness in students from underserved and underrepresented populations, Kurz spent a great deal of his life fighting for racial equality. After serving in the U.S. Army Air Corps during World War II, he founded Veterans Against Discrimination, which became an active element within the radical Civil Rights Congress, formed in 1946 to call attention to racial injustice in the United States. His commitment to academic freedom, constitutional rights, and freedom of the press led him to establish an academic freedom center at New York University and the Herbert Kurz Chair in Constitutional Rights at Brooklyn College.
With the creation of the new Herbert Kurz Leadership Academy, BLMI students participate in hands-on field and classroom learning in order to learn what it takes to be leaders and mentors in their own communities. Student K. LaMonte Jones is already demonstrating the principles Kurz spent his life championing. In December, the television and radio major, who minors in philosophy and is considering an additional minor in Africana studies, participated in the Millions March in New York to protest police violence. On Instagram, pop star Rihanna posted a photograph featuring Jones at the march, an image that also made its way into Essence magazine.
But he had not always been as driven and focused. Jones, who was raised in a working class neighborhood in St. Louis, Missouri, was always passionate for both learning and social justice. He had made an attempt at a college career in the past—at Fontbonne University to study theater, then to Morehouse College—but that attempt ended abruptly.
"I didn't have a lot of guidance," says Jones, who adds that he often felt alienated. "I knew, deep down, that I was a good student, but not having people to support me or encourage me in a way that would ensure my success, I was left to my own devices."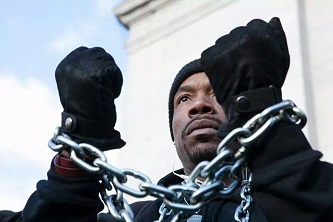 He came to the realization that he was attempting to achieve all of the accolades without putting in any of the hard work necessary to obtain them. He overcame his struggles and started his own comprehensive artist development, management, and public relations company in New York called Gifted Soul.
Jones, who today boasts a 4.0 GPA, was determined to attend Brooklyn College because of its rigorous academic standards and because he had something to prove to himself. "Thank God I'm at this school," he says, "because it's a college that makes it possible for low-income people to pursue an education. And I fall into that category."
At the college, Jones has found a place where he is challenged academically and politically, and also has a supportive community. After meeting BLMI staff members and students during an event on the quad, he was immediately interested in joining. He credits the organization for his academic success.
Beyond the resources BLMI provides to its students—such as access to study labs, tutoring, writing workshops, health and wellness counseling, mentoring programs, career and graduate school preparation, leadership building, field trips, and scholarship and study abroad opportunities—Jones says there is one other valuable component to the initiative.
"BLMI validates me, starting with [Director] Nicole St. Clair and her personal, hands-on approach 'Iron sharpens iron, as one person does another,'" he says, paraphrasing biblical scripture. "BLMI is a place where I can be unapologetically me."
Jones hosts Kuttin' It up with K!, a political show broadcast on the college's radio station, WBCR. It airs every Tuesday from 11 a.m. to 12 p.m.
To learn more about BLMI, please e-mail the office.
Back to BC News