Participating students will gain real-world experience in managing student-run hedge fund. 
/web/new_2015news/150311_SassAcademy_94x85.jpg
Brooklyn College Launches M.D. Sass Investment Academy
March 11, 2015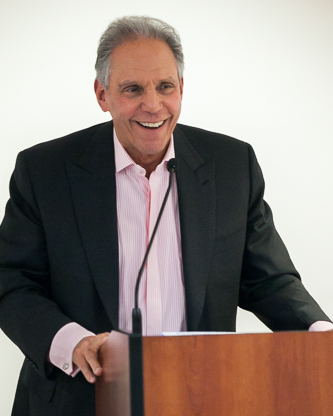 More than 130 students attended the launch for the new Brooklyn College M.D. Sass Investment Academy on Feb. 27 at 25 Broadway in Manhattan. Martin D. Sass '63, whose generous contribution supports the initiative, was on hand to talk to students about his own professional journey.
"There is no free lunch," Sass told students. "Nobody handed one to me. But I'd like to provide a vehicle for those who can step up."
The Crown Heights native also shared with students that, while attending Brooklyn College, he lived in a basement apartment that had no real shower—just a shower head—next to a boiler, and paid $25 per semester for tuition. Though he was interested in a career in finance, Sass said he wasn't certain about what he wanted to do, and he didn't know anyone on Wall Street, but knew that when he got the chance, he would work harder than anyone. 
He asked the same of the students who will be part of the investment academy, a student-run hedge fund. The program will give students real-world experience by allowing them to learn from expert investment managers and security analysts, and help manage and invest actual securities under the supervision of seasoned, successful investors. Student participants will also be eligible for performance-based rewards that will be paid out of profits of the fund.
"This is the perfect opportunity to get my feet wet," said Jonathan Santiago, a junior in the School of Business who wants to work in securities. "I want the chance to prove myself."
Sass began his career at the Wall Street brokerage firm Ira Haupt & Co. after graduating from Brooklyn College with a B.S. degree in accounting. In 1972, he founded M.D. Sass, which today has more than $7 billion in assets under management for corporations, state and local governments, multi-employer funds and individual investors. 
Sass has promised the students that the work will be demanding and time-consuming. "This is real money. This is the real world," he said. "Your performance will be measured every day."
"This is an excellent beginning for the academy and we are grateful to Mr. Sass for affording our students this wonderful opportunity," said School of Business Dean Willie Hopkins.
Back to BC News