Professor Namulundah Florence explores the educational leadership of the founder of Kenya's Greenbelt Movement.  
/web/new_2015news/150311_NamulundahFlorence_94x84.jpg
New Book Sheds a Different Light on Nobel Prize Winner Wangari Maathai
March 11, 2015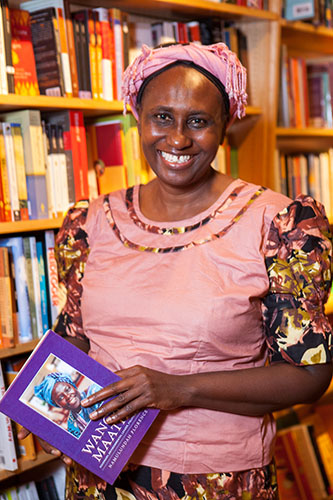 It's a central part of Wangari Maathai's legacy that she was the first African woman to earn the Nobel Peace Prize for the global impact of her environmental activism. What's less well-known is that she was the first woman in eastern and central Africa to earn a Ph.D. and the first Kenyan woman to earn a master of science degree. 
Namulundah Florence, professor of secondary education, feels something of a kindred connection to the late founder of the Green Belt Movement, a grassroots advocacy organization that empowers communities, particularly women, to conserve the environment and improve livelihoods. She and Maathai were both Kenyan village girls who pursued formal schooling at a time when such a thing was not common. Both their lives were transformed by education. Both went on to become college professors.
"I wanted the world to know her place as an intellectual woman," says Florence, whose book, Wangari Maathai: Visionary, Environmental Leader, Political Activist (Lantern Books), was released last fall. "We've focused on her activism but not her intellectual life."
Maathai (1940–2011) was an active academic. She was the first female associate professor, senior lecturer, and chair of the Department of Veterinary Anatomy at the University College of Nairobi. She fought for equal benefits for female staff members and even rallied to unionize the faculty. 
"There were very few science educators who were female, and this is a woman teaching science at the university level," notes Florence, who returned to Kenya to conduct some of her research for the book, interviewing two of Maathai's former students as well as the head of the Wangari Maathai Institute for Peace and Environmental Studies. 
Today, Florence points out, "there are more women administrators and vice-chancellors, more girls in school and for longer periods, and women's issues are discussed in national forums."
In her book, Florence takes pains to lay out some of the sociopolitical context that existed in Kenya throughout Maathai's life in order to help readers understand the uniqueness of Maathai's experiences. 
"For us, she embodies possibilities," says Florence. "She made the unthinkable thinkable."
Back to BC News