National Award provides $30,000 toward graduate study for students pursuing public service.
/web/new_2015news/150415_JakeLevin_2_94x84.jpg
Junior Jake Levin Wins Prestigious Harry S. Truman Scholarship
April 15, 2015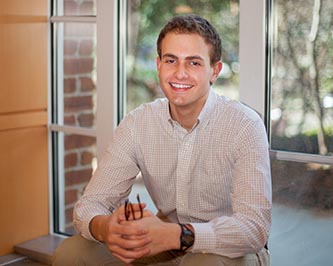 Jake Levin, a political science and philosophy major, joins a short list of students nationwide who are being recognized for their public service leadership potential. The 2015 Harry S. Truman Scholarship will grant him $30,000 toward tuition for his graduate studies, a number of professional development opportunities, and the prestige that comes with belonging to an elite group of students tapped for their potential to become leaders. Levin, a junior, is the third Brooklyn College student and the ninth City University of New York (CUNY) student to win the award.
"We are very proud of Jake and congratulate him on this well-deserved honor," said Brooklyn College President Karen L. Gould. "He has demonstrated the type of leadership and civic engagement that has distinguished so many Brooklyn College alumni who are at the top of their fields."
"It's great to be recognized for an interest in public service and this will be a very valuable credential," said Levin, who plans to pursue a juris doctorate. "Being a part of the Truman community will also be incredibly valuable because I get to meet and bounce ideas off other people who have done what I'm interested in doing."
The Macaulay Honors College student is one of 58 Truman Scholars selected in 2015. He has an extensive résumé that includes founding and organizing CUNY's first TEDx conference, internships with Senator Kirsten Gillibrand and the New York City Mayor's Office of Veterans' Affairs, studying under Ret. Four-Star General David Petraeus, and maintaining an active role within the Brooklyn College undergraduate student government, where he has served as assembly member, majority floor leader and presently, chair of the academic affairs committee. 
"These people want to run for office for the right reason," he said of his fellow Truman Scholars. "They feel like it's the best avenue for creating meaningful change and it will be really cool to be a part of that community."
A high school internship in his home state of New Hampshire allowed Levin to work as a part-time photographer covering the 2012 presidential campaign, which included visits by President Barack Obama, Govs. Mitt Romney and Rick Perry, and Sen. Rick Santorum. 
"In New Hampshire, politics is the state sport," Levin said. "For a high school student, it was a very exciting atmosphere to be in." He said that this experience gave him his first inkling that he might one day pursue politics, an interest that was further cultivated during courses and other activities outside of school.
The Harry S. Truman Scholarship Foundation supports the graduate education and professional development of outstanding young people committed to public service leadership. Each year the foundation weeds down hundreds of applications from across the country to between 50-75 scholars. In addition to the tuition funding, after receiving their undergraduate degree, scholars head to Washington, D.C., to work with the federal government or a nationally-focused non-profit organization.
Levin will travel to Missouri next month to spend a week with the 2015 class of Truman Scholars and receive his award at the Harry S. Truman Presidential Library and Museum. 
The Harry S. Truman Scholarship Foundation was created by Congress in 1975 to be the nation's living memorial to President Harry S. Truman. The foundation has a mission to select and support the next generation of public service leaders. The award has become one of the most prestigious national scholarships in the United States. Annually, candidates for the scholarship go through a rigorous, multi-stage selection process. In 2015, there were 688 candidates for the award nominated by 297 colleges and universities. The 200 finalists for the award were interviewed in March and early April at one of 16 regional selection panels. 
Levin joins Ryan Merola '07 and Lisette Nieves '92, the two previous winners from Brooklyn College. Nieves went on to become a Rhodes Scholar as well.
Back to BC News