Annual award recognizes writing and visual art of CUNY students. 
/web/new_2015news/150427_Rubin_94x84.jpg
Four Brooklyn College Students Win Labor Arts Award
April 27, 2015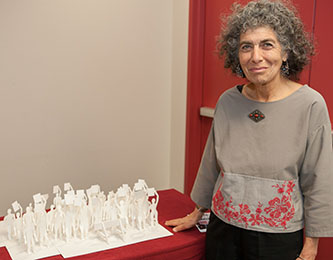 Two visual artists, a writer and a poet are all winners of this year's Labor Arts/CUNY Making Work Visible award, a contest that aims to expand students' thinking about labor history. The annual contest, open to all CUNY undergraduate students, and sponsored by LaborArts.org and the Shelley and Donald Rubin Foundation, awards prizes for writing and art that showcases creativity, imagination and analytical ability.
Judith Rubin, a sophomore who is pursuing her second undergraduate degree after a long career as a teacher, was the only first-place winner from Brooklyn College. Her paper sculpture of people demonstrating actually originated from a class assignment, which she previously submitted to an exhibit about the recent police brutality protests across the country.
"The sculpture is about fighting for any kind of human rights," the visual art major says, adding that the 100 pound Bristol paper she used "is cheap and accessible," which she says was appropriate given that the demonstrators were meant to represent the masses. "I think that's what helped the piece win," she says.
Three other students took home awards: Randon Rosenbohm, a media studies major who also submitted visual art; Michelle Long, an economics major who submitted non-fiction writing; and Mariusz Zubrowski, an English major who submitted a poem.
Long, a waitress who works with an immigrant population, submitted an essay titled "Crossing the Desert."
"I rarely enter contests but I really liked the idea of giving exposure to the men and women of New York City who are feeling extremely underappreciated," she says.
The awards ceremony was held at Brooklyn College's Graduate Center for Worker Education (GCWE), which has become a hub of activity in the past academic year. Officials from the center have been working with Medgar Evers College on a workforce training grant to teach young people computer skills. There is also an American Language Academy, which offers a full suite of programs for immigrants and foreign nationals learning English. And there are currently 19 courses a week at the center, filling the schedule to capacity. 
Additionally, there are representatives from the college's Magner Career Center and the Reading Center based at the GCWE, located at 25 Broadway in lower Manhattan, to support students and adults who have an easier time accessing that location.
All contest winners, along with their entries, will be published on the Labor Arts web site.
Back to BC News