Eric Walrond: A Life in the Harlem Renaissance and the Transatlantic Caribbean, by Prof. James Davis and Becoming Julia de Burgos: The Making of a Puerto Rican Icon, by Prof. Venessa Pérez-Rosario shed new light on the late authors. 
/web/new_2015news/150429_Perez_94x84.jpg
Two Professors Pen Separate Books on Influential Caribbean Literary Figures
April 29, 2015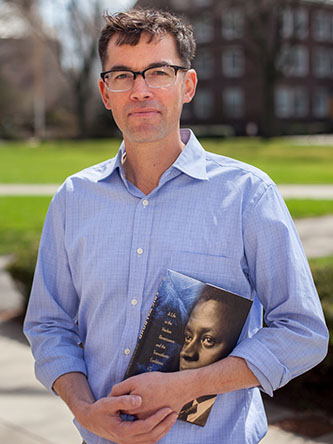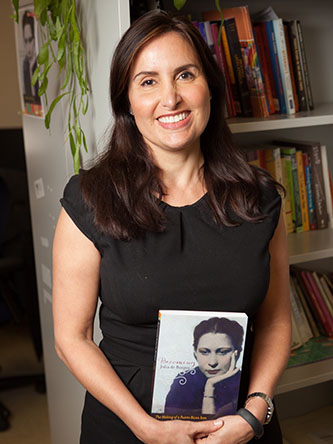 Two Brooklyn College faculty members have recently published books that shed new light on influential literary figures—one nearly forgotten and one who rose to prominence posthumously. 
English Professor James Davis' book, Eric Walrond: A Life in the Harlem Renaissance and the Transatlantic Caribbean (Columbia University Press, 2015), takes a look at the life of the little known Harlem Renaissance writer who was one of the first to depict the lives of Caribbean people in American fiction. Becoming Julia de Burgos: The Making of a Puerto Rican Icon (University of Illinois Press, 2014) by Puerto Rican and Latino Studies Professor Vanessa Pérez-Rosario is the first book-length work in English that explores the life of poet and political activist Julia de Burgos, including her experience of migration and her legacy in New York City.
Davis wasn't exactly looking for Walrond. It was more like the late author's work found Davis while he was digging through the archives at Columbia University. Thumbing through an old publisher's catalog, he stumbled upon an announcement for a book on the history of Panama, written by Walrond.
"I knew I had to come back to this," says Davis. "I had always read this was an author who people really admired, who was well known at the time but that basically he had written one book and flamed out."
Davis did more than revisit the research—he ended up turning it into a book that draws a more complete picture of the life of the literary luminary who was largely assumed to have dropped off the face of the earth.
Walrond's only book, Tropic Death, published in 1926, along with his journalistic writing and short stories that appeared in popular magazines, had earned him the respect of peers like Langston Hughes. He even went on to win a Guggenheim Fellowship for fiction. But not too long after his book was published, he moved to England, ended up working as an accountant, and eventually committed himself to a mental institution—where he incidentally started a literary magazine and published his history of Panama in installments. 
"It was super strange," says Davis. "I'm leafing through pages of a mental hospital magazine and there's something on the cricket match between the patients and the wardens and then a puzzle and then this heavily researched, foot-noted, academic treatment of the history of Panama sandwiched in between."
Davis employed a lot of detective work, searching through archives from New York to Panama and England, to piece together what happened to Walrond and to detail in the book his relationships with several prominent Harlem Renaissance-era writers like Countee Cullen and Zora Neal Hurston.
"When you are trying to do research on someone whose fame declined into negligible terms, you don't have a central repository. But this guy knew everyone. So the challenge was to locate the information in all these disparate libraries."
Davis, who also teaches in American Studies, pieced together grants from PSC-CUNY and the Tow Foundation and a one-year fellowship from the Leon Levy Center for Biography at the CUNY Graduate Center in order to complete his research for the book.
"I would mostly just like people to read his work," says Davis. "That's my main goal."
Pérez had a similar motive in writing about Burgos. "We celebrated the centennial of her birth in 2014 and still there was no book published on her in English," says Perez. "It was time."
If Burgos, a native of Puerto Rico, is a Latina icon today, she was an iconoclast during her time. She is celebrated for knocking down stereotypes about women's role in society, Latino culture, and for fighting for Puerto Rican independence.
Pérez started her book journey by reading Burgos' poetry and then did some research on the political and social forces that surrounded her and informed so much of her writing. Perez also interviewed people who either knew the late poet or claimed her as an influence.
"I started out wanting to avoid the biographical," says Pérez. "I later realized that it was the stories of her life, her migration, and her death that captured the imaginations of so many."
Burgos grew up in a barrio in Puerto Rico where conditions were so dire, six of her siblings died of malnutrition. She ended up earning a scholarship to attend college, graduated at the age of 19 and then had a brief stint as a teacher, a job that was reportedly derailed by her political beliefs. She ended up marrying young, but like her teaching career, her marriage was short lived. Burgos yearned to live a more independent life which, eventually, turned her into a social pariah. She traveled to and New York and Cuba, journeys that introduced her to literary luminaries like Nobel Prize winners Juan Ramón Jiménez and Pablo Neruda, both of whom saw in Burgos a very promising poet. 
She continued to fight for her island's independence from the U.S. and as a writer for the New York based Spanish weekly Pueblos Hispanos, she developed a keen sense of Latin American solidarity and tried to connect and assist the immigrants living in New York. She ended up dying alone at the age of 39 after collapsing on a street in Harlem.
"Her life didn't end as a tragedy; she was not a victim," Pérez recently told NY1 Noticias. "Her legacy and her influence in the '60s and onward has continued." 
What Pérez hopes readers take away from her work is "a better appreciation of the complexity of this figure, and also a better understanding of the political, social, and historical forces that she contended with in her life," she says.
Back to BC News