Joshua V. Kurian '15 is not only an academic superstar, but is also a civically engaged citizen.
/web/new_2015news/150518_Kurian_94x84.jpg
Meet Our Valedictorian
May 18, 2015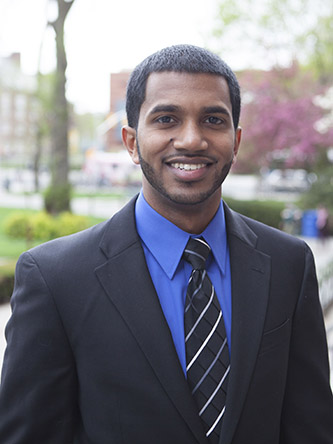 Ever since middle school, Joshua V. Kurian knew he wanted to be a doctor. He will begin to make that vision a reality when he enters medical school this fall, but not before he bids Brooklyn College farewell while holding onto one of the highest distinctions of all: valedictorian of the Class of 2015.
"It's a true honor and privilege to be the college's valedictorian," Kurian says. "I'm extremely grateful to the school's administration for giving me the opportunity to address my fellow graduates at commencement."
Kurian is the son of immigrants from Kerala, India, who came to the United States in the 1980s. He grew up in Yonkers, N.Y., and moved, with his family, to White Plains, N.Y. when he was in high school. While he is from a family that is no stranger to the field of medicine (his mother and one of his sisters are nurses; another sister is a pharmacist), he will be the first doctor. Kurian's mother was the inspiration for his medical aspirations.
"I was able to see what nurses did and how people appreciated them," he says about observing his mother in her workplace. "Aside from a certain level of respect and job stability, medical care is something that all people need, and usually in a moment of desperation. I like being able to help people, especially when they need it most."
In order to make certain his path to medical school was a sure and steady one, Kurian applied to Brooklyn College, which offers the Coordinated B.A.–M.D. Program, guaranteeing students acceptance into SUNY Downstate Medical Center's College of Medicine, provided they maintain a high level of academic excellence. While the program allows for students to select any major, it also encourages them to major in the humanities and social sciences so that they are able to take a holistic approach to medicine.
"A guaranteed spot in medical school is very appealing," Kurian notes. "Also, Brooklyn College isn't too far from home and is a prime location for students like me, who are not from the city proper, to explore and enjoy Brooklyn, as well as the rest of New York City."
Another aspect of the Brooklyn College experience that Kurian found invaluable was the opportunity to study abroad. As treasurer of the Study Abroad Scholarship Association (SASA), Kurian believes that it is essential for students to broaden their horizons outside of the classroom, use their strengths to help others, and most importantly, have the financial means to be able to make the journey. In 2013, he joined the Global Medical Brigades, where he traveled to Estelí, Nicaragua to set up a medical center and build latrines for the citizens there. The experience had a lasting impact on him.
"After my team had built a latrine for one of the houses, the oldest son of the house was very grateful for our work," Kurian recalls. "I saw him connect the running water and felt humbled by the fact that I had grown up with a bathroom in my house—a basic hygienic necessity—without even thinking about who had built it or where it came from. Although the latrine was not luxurious by any means, he was thrilled by it. That really struck me and made me feel like I made a difference in someone's life."
In addition to helping those abroad, Kurian enjoys helping those at home. As president of the Brooklyn College chapter of Kappa Sigma Fraternity, he spearheaded several community service projects that included helping to build a playground in Breezy Point, N.Y., and raising funds for the Military Heroes Campaign and the St. Baldrick's Foundation.  And he tutors students in the sciences, both privately and at the SEEK Learning and Study Center.
"I'm confident that my education at Brooklyn College has set me up to do well in medical school," Kurian says. "Aside from what I learned in class, I learned how to engage with a diverse group of people, which I believe is a necessary and valuable skill for a physician."
Kurian, a student with a cumulative 4.00 GPA and recipient of the Christoph M. Kimmich Award for Academic Excellence, is receiving his bachelor of arts degree in psychology at the baccalaureate commencement ceremony on May 28, where he will also give the valedictory address to an audience of thousands.
Back to BC News