Koppelman's $8.5 Million gift will support the establishment of the only accredited school of business in Brooklyn. 
/web/new_2015news/150630_Murray_Koppelman_94x84.jpg
Brooklyn College School of Business to be Named for Philanthropist Murray Koppelman '57
June 30, 2015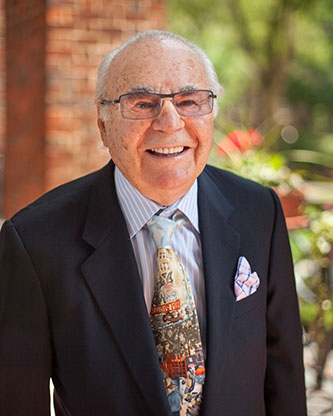 In recognition of over $15 million mobilized to support Brooklyn College's School of Business, CUNY trustees have approved the naming of the school in honor of prominent philanthropist Murray Koppelman '57.  The funds raised will advance accreditation and enhance excellence.  When the accreditation process is complete, the Koppelman School will be the only accredited school of business in the borough and will provide affordable access to strong degree programs that prepare students for successful careers in the growing global economy.

"Murray Koppelman has remained a longtime friend and active supporter of the college. He is keenly aware of the importance of our mission to provide academic rigor while ensuring access for deserving students," says Brooklyn College President Karen L. Gould. "His generous contribution will enable us to attract outstanding faculty and prepare our students to excel in the global market place."

"The business community is aware of the excellent reputation of the Brooklyn College School of Business," says Willie Hopkins, the school's founding dean. "Accreditation will help us to expand opportunities for our students and support faculty who are leaders in their fields."

Accreditation by the Association to Advance Collegiate Schools of Business (AACSB) is a critical step in creating more career opportunities for students and supporting academic excellence among faculty. The gift will support faculty research, workshops by visiting scholars and financial industry professionals, and provide state-of-the art resources for students.

"I really care about all of the students who want to get a degree in business and are struggling in life, like I did," says Koppelman. "And everyone who succeeds here as a result of what I did will give me great pleasure."

Koppelman was raised in Borough Park, Brooklyn. He entered Brooklyn College after serving in the U.S. Army in the Korean War and received a bachelor's degree in accounting, cum laude. He quickly rose in the fields of finance and banking, serving as managing partner of an accounting firm from 1961-1968 and then as an executive vice-president and chief operating officer of D.H. Blair and Co., Inc for close to 20 years. He then became president and chief executive officer of the Manhattan-based banking firm Eastlake Securities, Inc. In 2005, Koppelman became the vice president for private client services at J.P. Morgan. He is an avid supporter of a number of philanthropic causes and holds several board seats and distinctions for his commitment to the community and to academia.

Koppelman's $8.5 million dollar gift comes on the heels of previous gifts to the College, for a total of $12.5 million.  His generosity inspired an additional $2.5 million in gifts from members of the Brooklyn College Foundation Board of Trustees in his honor, for a total of $15 million in new support for the Koppelman School of Business.

"Brooklyn College helped me create a pathway to my growth as an individual and my successes in life, and I am pleased that I and my fellow trustees were able to join Murray in supporting our alma mater in such an important manner," says Ed Cohen '62, one of New Jersey's most respected real estate developers and chair of the Brooklyn College Board of Trustees. 

The Brooklyn College School of Business was created in 2011 as a reorganization of the college's academic programs into five schools. The Koppelman gift comes at an important time in the college's growth and its impact on the borough.
Back to BC News