A Caribbean Studies class gets a lesson in a signature carnival instrument—steelpan. 
/web/new_2015news/150904_Steeldrums_94x84.jpeg
Exploring the Cultural Roots of Carnival
Sept. 4, 2015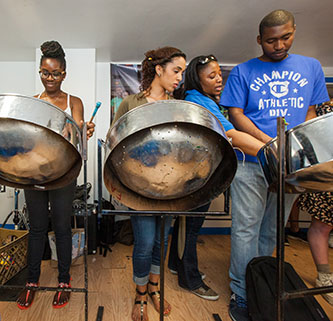 Each Labor Day, revelers flock to Brooklyn to take part in the West Indian Day parade, an event that draws crowds upwards of three million. Brooklyn College students recently got a rare opportunity to gain a deeper understanding of the cultural roots of this carnival through a course that examines one of its signature instruments—the steelpan.
Professor Dale Byam's class, Carnival: History, Music and Performance, ran during the second summer session, a fortuitous time because it coincided with the local Caribbean-American community's intense preparations for Brooklyn's carnival festivities.

Michelle Williams, vice president of a Brooklyn-based organization that has its own steelpan orchestra, invited Byam to hold class in their rehearsal space in the cramped basement of a Lefferts Gardens brownstone. There, the experienced pannist talks to the students about the birth of the steelpan, the only acoustic instrument to be invented in the 20th century.
Williams explains that there has been some discrepancy over who actually invented the instrument, native to Trinidad and Tobago, which has now spawned orchestras as far away as Japan.
"With any marginalized group, their history is often not recorded," adds Byam, the director of the Caribbean Studies program. "But many people informed the development of this instrument."
The most popularly held story takes place during the 1930s, when used oil drums near American military bases in Trinidad and Tobago were taken by impoverished youth, heated over bonfires, and hammered into an instrument whose indentations produced the notes of a musical scale.
After the history lesson and quick annotations on each instrument that make up the steelpan orchestra—the double seconds, double guitars, triple cello, tenor bass and six bass—the students are invited to pick an instrument on which they will receive an expeditious lesson so that they can come together to play a tune at the end of the day's class.
"I used to teach this class on a purely theoretical level but that wasn't working for me," says Byam, who also teaches in the Africana Studies department. "You have to actually get out there and experience this type of music up close, the sense of community that is necessary for it to come together, and the kind of energy that is nurtured."
Williams teaches the students, with an assistant who is part of her orchestra, the popular soca song, "Feeling Hot Hot Hot." As heads bob, riotous laughter breaks out and the cacophony of the students' fervent drumming fills the room.
Byam is among the most kinetic players, her petite frame nearly engulfed by the six tall steel pans that make up the six bass, the instrument she has decided to bunker down with.
"I think this is my height," she shouts out to no one in particular. "I'm ready to go!"
"My friend told me Professor Byam was really good but I didn't expect to have so much fun," says Schontal Russell, a senior majoring in kinesiology, who is of Jamaican descent. "It's been really nice to learn about how this music that came from these tiny islands has influenced the world. I have also grown a deeper appreciation for steelpan."
The Caribbean Studies program emphasizes the role that the Caribbean has played in U.S. history, immersing students in the study of slavery, colonialism and the rich cultural collision that shapes the islands today.
Byam, who has traveled the Caribbean studying carnival, is planning to take a group of students to Trinidad and Tobago during the winter intersession so that they can see the carnival preparations there.
"Carnival has traditionally been a space for activism and resistance," she says. "From an academic perspective, there is a lot to explore. For us as a class, the energy alone is empowering."
Back to BC News