The Brooklyn College LGBTQ Resource Center celebrates its first anniversary and looks ahead toward expanding support and services for the college's LGBTQIA community.
/web/new_2015news/LGBTQ_Resource_Center_04_94x84.jpg
Building an Inclusive Community
Oct. 5, 2015
It was nearly one year ago that Brooklyn College launched its Lesbian, Gay, Bisexual, Transgender, Queer and/or Questioning (LGBTQ) Resource Center. The center, under the leadership of Director David P. McKay '93, has already made great strides in providing services to the LGBTQ members of the campus.
Created in 2014, the center sought to bring together the talents of students, faculty and staff to create programming about issues that affect the Lesbian, Gay, Bisexual, Transgender, Queer and/or Questioning, Intersex, and Asexual (LGBTQIA) community.
"I believe the center has, in a very short period of time, made issues affecting this particular population of Brooklyn College very visible," says McKay. "I knew the center had 'arrived' when we were asked to be one of the co-sponsors for an event last spring featuring National Book Award-winning author Jacqueline Woodson."
On Oct. 8, the center will partner with the Lesbian, Gay, Bisexual and Transgender Alliance at Brooklyn College (LGBTA @ BC) and GLBTQ Advocacy in Research and Education (GLARE) to host Brooklyn College's Third Annual Coming Out Day, which will feature an information fair, panel discussions and a reception. Panels include "Talkback with Professor María R. Scharrón-del Río," "Live to Tell: Coming Out in the Digital Age, A Lecture by David McKay" and "Open Group with Brooke Green." In 1988, psychologist Robert Eichberg and activist Jean O'Leary created National Coming Out Day, celebrated annually on Oct. 11, to raise awareness about the issues faced by LGBQTIA communities. October is also LGBTQ History Month.
Despite recent political triumphs like marriage equality, discrimination and violence against LGBTQIA people remains a serious social issue. "Our primary goal is to make the campus a safer and welcoming space for students," says McKay, "but we recognize that in order to do so, we have to involve the entire community."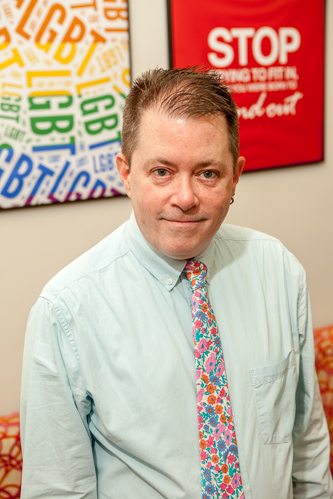 The center experienced an overwhelming surge of interest this past summer at the Brooklyn College new-student orientation events. "Since it's opening last year, the LGBTQ Resource Center has provided me with a safe and welcoming space, and by doing so, has become a very important part of my stay at Brooklyn College," says Carolina Torres, a senior majoring in anthropology. "Its addition to the campus has made my experience as a student much more enjoyable because it has provided me with a space to interact with people like myself and, in a way, a feeling of belonging to a much larger community."
Moving ahead, the center will work toward advocating for more gender inclusive restrooms on campus and also seek ways to expand their current base of operations so that they can provide even more student support and programming.
"We want be able to continue to provide these resources and services to those who need them. To do that, we need the help of the entire Brooklyn College community," says McKay.
For information on how to make a charitable donation to the LGBTQ Resource Center, please contact the center's director, David P. McKay. The center is located in 1433 Ingersoll Hall, 718.951.5739.
And please be sure to attend these upcoming events co-sponsored by the LGBTQ Resource Center:
Oct. 8 – Come Out and Celebrate: The Third Annual Coming Out Day at Brooklyn College
Location: Gold and Maroon rooms, Student Center, sixth floor
Time: 11 a.m.–7 p.m.
Oct. 22 – GLBTQ Advocacy in Research and Education (GLARE) /LGBTQ Resource Center Faculty/Staff Roundtable on LGBTQIA Issues on Campus
Location: Brooklyn College Library, room 411
Time: 3:30–5:30 p.m.
Oct. 26 – The Herbert Kurz Lecture Series:  LGBTQ Equality v Religious Rights?
Location: Woody Tanger Auditorium, Brooklyn College Library
Time: 11 a.m.–12:30 p.m.
Nov. 4 – Shadowed Dreamer: A Story of Survival, Determination, and Belief (Performed by Stephen Hart)
Location: Woody Tanger Auditorium, Brooklyn College Library
Time: 12:30–2 p.m.
Nov. 17 – Uncovering the Mirrors: An Evening with Transgender Artist and Activist Rebecca Kling
Location: Amersfort and Bedford lounges, Student Center, second floor
Time: 6:30–9 p.m.
Back to BC News