A Tale for the Time Being author talks inspiration and process with students.  
/web/new_2015news/151014b_Ozeki_94x84.jpeg
Award-Winning Author Ruth Ozeki Visits Brooklyn College to Deliver First-Year Common Reading
Oct. 14, 2015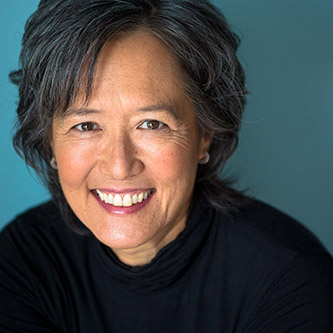 Brooklyn College's annual First-year Common Reading recently welcomed Ruth Ozeki, author of A Tale for the Time-Being (Penguin Books, 2013), which won the Los Angeles Times Book Prize, and was shortlisted for the Man Booker Prize and the National Book Critic's Circle Award. First-semester students are required to read the book as part of the common reading program, in which students write memoirs or other critical responses to the work, participate in a panel discussion with faculty members, and take part in other collaborative intellectual experiences. 
In a crowd whose number surpassed what was expected, students gave Ozeki a raucous welcome, and their enthusiasm was met by the author's gratitude for being on the campus to share her work. 
"A lot of the writers one reads in college are dead," she pointed out to the students. "I'm extremely lucky to be alive and to be here today."
Ozeki shared her writing process with students, explaining that she first heard the voice of Nao, one of the two main characters in the novel, several years ago. Nao is a teenager in Tokyo who is contemplating suicide because her classmates keep bullying her. She writes a diary that she ends up casting out to sea. The character Ruth, with whom the author says she shares much in common, ends up reading the diary. 
"All fictional characters are in some way deeply related to the writer," she said, calling the character Ruth her alter ego.
Ozeki finished a draft of the novel in 2011 and then in March of that year, an epic tsunami and resulting earthquake hit Fukushima, Japan. "The reality of the earthquake was so extreme that it broke the fictional world of my book," she said. "There was pre-earthquake and post-earthquake; I had written a pre-Fukushima book and it couldn't go forward."
So she withdrew the manuscript and got back to the drawing board, changing certain parts to fold the tsunami into the novel. The tsunami is ultimately what ends up sending Nao's diary across the Pacific Ocean to Ruth, and is also a device that becomes an important cliffhanger in the novel.
Ozeki is also a filmmaker and Zen Buddhist priest. Her documentary "Halving the Bones," which traces 100 years of her maternal family history from Japan to the United States, will be screened on campus on October 22. It has been broadcast on PBS and at the Sundance Film Festival.. 
Her first two novels, My Year of Meats (Penguin Books, 1998) and All Over Creation (Penguin Books, 2003), have been translated into 11 languages and published in 14 countries. A Tale for the Time-Being has been published in more than 30 countries.
Ozeki was ordained as a Buddhist priest in 2010 and is affiliated with the Brooklyn Zen Center and the Everyday Zen Foundation. She lives in British Columbia and New York City, and is currently the Elizabeth Drew Professor of Creative Writing at Smith College.
Back to BC News