Biannual event draws crowds eager to hear the campus' best and brightest work their creative magic.
/web/new_2015news/Open_Mic_01_94x84.jpg
Brooklyn College's Open Mic Features Diverse Creative Voices
Nov. 13, 2015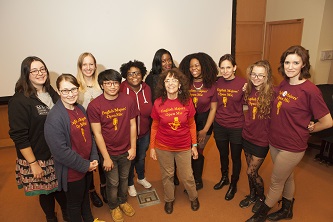 Some of the best and brightest creative voices on the Brooklyn College campus were on display on stage at the bi-annual English Majors' Open Mic held on Nov. 3 in the Woody Tanger Auditorium of the Brooklyn College Library.

Sponsored and arranged each semester by Professor Roni Natov '65 and the interns in the English Majors Counseling Office in the English Department, the open mic is an opportunity for the college's poets, writers, singers, musicians, comedians, and other artists to come together and share their works with the rest of the campus community in an intimate and supportive setting.

"I was once a student here," says Natov, who, with her interns, began the open mic in the spring of 1998. "We are creative. We are diverse. We do not have to compete. We just wish to celebrate all of the different voices. And we're all welcome."

Brooklyn College has a long tradition of attracting and producing respected and award-winning artists, including John Ashbery, who taught at Brooklyn College in the 1970s; and Allen Ginsberg, who taught at the college from 1986 until his death in 1997.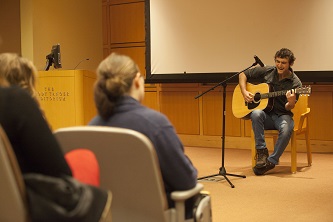 The open mic's dynamic performances ranged from poems about #BlackLivesMatter and Beyoncé, to folk songs about love and disappointment, to short stories about relationships and identity, to rap songs about spirituality. One of the performers was English major and senior Nate Bondy, a student visiting the college for two semesters from the University of Vermont. Bondy is a singer/guitarist whose ballad "Emily" received rousing applause from the audience. He confessed that he felt a bit of stage fright.
"It's been a while a very long while—since I've performed—in front of an audience," Bondy said. "I stopped because it's sort of like opening a vein on the crowd. But here at the college is the first time I've ever felt safe performing anywhere. And I brought my guitar, so I kind of had no choice but to get up there."
Brooklyn College's community of esteemed artists include Professor Julie Agoos, acclaimed poet and winner of the Yale Younger Poets Prize, and program coordinator of the M.F.A. creative writing-poetry program; Pulitzer Prize-winning playwright Annie Baker '09 M.F.A.; poet, novelist and critic Paul Beatty '89 M.F.A., first ever Grand Poetry Slam Champion of the Nuyorican Poets Café; Kate Benson '14 M.F.A., Obie Award-winning playwright; Joshua Henkin, critically acclaimed novelist and program director of the M.F.A. creative writing-fiction program; Professor and MacArthur 'Genius' Fellow Ben Lerner, who mentored Pushcart Prize-winner Ocean Vuong '12, a graduate of the B.F.A. Creative Writing Program and the recipient of an unprecedented $40,000 scholarship from the Elizabeth George Foundation; Dinaw Mengestu, MacArthur 'Genius' Fellow and professor of English; author Gloria Naylor '86, winner of the National Book Award; Grammy Award-winning musician Arturo O'Farrill '96; award-winning poet and author Sapphire '95 M.F.A.; Donald I. Fine Professor of Playwriting and Obie Award-winner Mac Wellman; and many more. 

Despite its name, the English Majors' Open Mic invites all students, staff, faculty, alumni, and neighbors of the college to perform. To find out about next semester's open mic and how to participate, please visit the English Majors' Counseling Office in 3416 Boylan Hall.
Back to BC News