Beinecke Scholarship winner Sean DesVignes '15 and Macaulay Honors College senior Sofia Ahsanuddin delivered talks on 'Borders and Belonging' at second annual conference.  
/web/new_2015news/151207_TedExLogo_94x84.jpeg
Brooklyn College Scholars Draw Record Audience at TEDxCUNY Conference
Dec. 7, 2015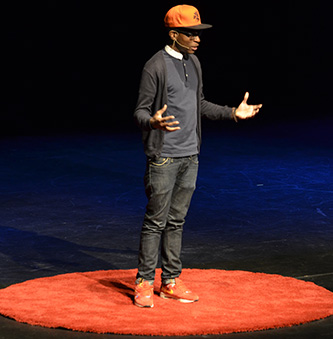 Beinecke Scholarship winner Sean DesVignes '15 and Brooklyn College senior Sofia Ahsanuddin were among a select group of speakers at the recent TEDxCUNY conference, held at the Tribeca Performing Arts Center at Borough of Manhattan Community College, CUNY. The second annual event was organized by Harry S. Truman Scholar and senior Jake Levin, and featured 20 student speakers and performers from across CUNY. The event drew more than 400 attendees—double the number from last year.
DesVignes shared three poems that explored his African-American and Caribbean-American identity, while Ahsanuddin spoke about microbial life in the New York City subways, which she researches as a project manager for a Weill Cornell Medical College study.
Levin, a Macaulay Honors College student, said that he and his team spent days trying to come up with the theme for the daylong conference. "We considered ideas and topics that were important to the CUNY community and things that were relevant globally and in New York City," he said. In the end, they chose the theme Borders and Belonging.
DesVignes, who has already published a book of poetry, Take My Eyes to the Dry Cleaners (evolNYC, 2014), was working on a new collection that examines issues of identity when Levin reached out to him to participate in the event.
"I wanted to say no at first. I was still working through drafts," said DesVignes. "I'm an artist so I'm sensitive about my work. It put some pressure on me."
DesVignes, a seasoned stage performer, received one of the most rousing rounds of applause at the conference for poems that addressed his cross-cultural influences and his thoughts about jazz artist Max Roach, calypsonian Lord Kitchener, and Europe as a site for black artists. DesVignes won $34,000 last spring with the Beinecke Scholarship to support him through graduate school. He plans to pursue a master's degree in creative writing after taking some time to work. He says he ultimately wants to be a teacher, author and traveling artist.
Ahsanuddin, a student in the Coordinated BA-MD Program and the Macaulay Honors College, started her talk by asking for a show of hands of people who rode the subway to the event. She then proceeded to explain the project she works on, PathoMAP, which attempts to map out the molecular muck of an urban environment and features perhaps unsurprising, if still unsettling findings about the New York City Subway.
"We've found meningitis in Midtown and antibiotic-resistant infections in all five boroughs," she said, noting that so many of the microbiomes studied in the project have themselves crossed borders.
Ahsanuddin was one of only three student speakers to take the stage out of 40 who applied. She was a finalist this fall for the Rhodes Scholarship and is a former Rosen Fellow and Goldsmith Scholar who has interned at the United Nations and served as a delegate to the Clinton Global Initiative University. She plans to become a doctor, a medical anthropologist and public health specialist.
The conference also featured talks from Univision anchor Jorge Ramos, who famously took on presidential candidate Donald Trump over immigration, and Emma Sulkowicz, an artist best known for her nine-month endurance performance in which she carried a mattress with her everywhere she went to bring attention to the issue of rape on college campuses.
The gathering was one of the largest TEDx university events in the country. The conference was also streamed live and there was a watch party held on the Brooklyn College campus. 
Back to BC News