At a U.N. event celebrating women-owned businesses and causes, undergraduate Mbachur Mbenga spoke about the need for women and girls around the globe to have full access to education.
/web/new_2016news/Mbenga_94x84_.jpg
Brooklyn College Student Speaks at Special United Nations Celebration of Women's Entrepreneurship Day
Feb. 5, 2016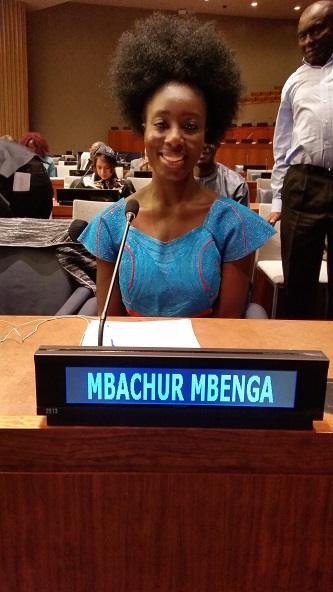 Brooklyn College senior Mbachur Mbenga stood in front of a delegation of dignitaries and distinguished guests at the U.N. last semester, and delivered an address in celebration of Women's Entrepreneurship Day.

"As the saying goes: 'If you educate girls and women, you will educate an entire nation,'" she said and then went on to detail the challenges they face obtaining a proper education. "There are well over 20 prominent nations, which continue to discriminate against young girls and women by preventing them from learning," Mbenga said. "In these countries, gender inequality in education not only represses the development of young girls and women, but also their sense of self-worth."

Assistant Professor Trina Lynn Yearwood '00, who recommended Mbenga for the prestigious honor of speaking at the U.N. celebration, was very pleased that the selection committee there saw the same potential in Mbenga as she did.
"Mbachur was the only undergraduate student and one of the most eloquent speakers," said Yearwood, who, herself, spoke at the U.N. in 2014. "During her speech, Mbachur mentioned that her education has inspired her to campaign for and support the empowerment and education of women and girls. I was so proud of her!"
Mbenga, who majors in children's and youth studies and minors in Africana Studies, was selected to participate as a panelist. The annual event, which began in 2014, honors women entrepreneurs around the globe, bringing together a network of leaders to shine a light on the accomplishments of women in business fields and seek solutions to the obstacles that impede empowerment. One of those is access to education. Mbenga, a Washington D.C. native whose parents are from The Gambia (she speaks Wolof, the native tongue of her father), stressed this during her speech to an audience that included Adena Friedman, president of Nasdaq; Claudia Fan Munce, managing director of IBM Venture Capital and group vice president of IBM Corporate Development; and Leona Lewis, Grammy-nominated entertainer.

"According to the United Nations Educational and Scientific Cultural Organization (UNESCO), of the 110 million children out of school in developing nations, 60 percent are girls," Mbenga highlighted. "In some countries, girls are never even taught to read, but it's not that they do not want to learn. Every child wants to learn. And I know many girls that want to be leaders."

A transfer student from Trinity Washington University, Mbenga began her academic career as a biology major—the influence of her physician father. However, she soon switched her focus to the education of children, inspired by her mother, an educator who owns a childcare facility. She made the decision to come to Brooklyn College because of the school's reputation and affordability.
"I can still go to medical school, take physician's assistant programs, do internships at hospitals. But I just really love educating and working with children," Mbenga said. "I took Dr. Yearwood's class last semester, 'The Black Child and the Urban Education System,' and realizing that the problems that Brown v. the Board of Education (1954) was meant to solve continue to thrive, I was reassured that it is definitely my calling to be an educator. Maybe I'll be a professor one day."
Back to BC News