A professor keeps her passion for finding new ways to teach students about social justice at the center of her work.
/web/new_2016news/160210_LaurieRubel_94x84.jpg
Doing the Math
Feb. 11, 2016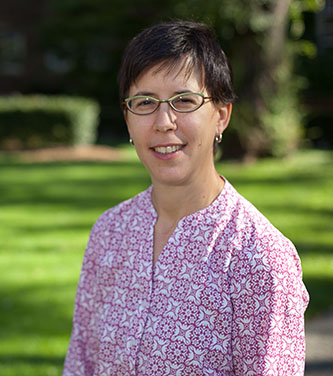 Laurie Rubel, an associate professor in secondary education, says she became a teacher partly because of a strong instinct to contribute to society. Her work is her social activism.
Take City Digits, a project that she has spearheaded to design technology-infused mathematics curricula that investigates social justice themes in a local, urban context. 
It started with a curriculum she and her team designed in 2013 called Local Lotto, where high school students discuss games of chance, try to determine the possibility of winning, and then go out into the surrounding neighborhood to record interviews with shopkeepers about selling lottery tickets. They create digital maps based on their interviews and other data to analyze, among other things, lottery spending as a percentage of income, combined neighborhood losses, and state profits.
She then came up with a spinoff project, Cash City, a curriculum in which students investigate the use of pawnshops and the cost of doing business with them as compared to other financial institutions like banks. Again, the students use digital maps to analyze the distribution of traditional banks versus alternative financial institutions, like pawnshops and check cashing services, in conjunction with data on median household income and similar characteristics. 
The projects, both part of City Digits, are a collaboration between Brooklyn College and the Massachusetts Institute of Technology's Civic Data Design Lab. The team received funding from the National Science Foundation.
"They push the envelope in terms of new kinds of learning opportunities for youth and their teachers," says Rubel, who is careful to note that participants are encouraged to notice patterns rather than to pass judgments. "We're not trying to shame people about bad decisions their own families might have made. We're trying to give them ways to think about the financial institutions in our city and how they are distributed."
In the fall 2015 semester, Rubel was a CUNY Distinguished Fellow at the Graduate Center's Research Collaborative, an award that has allowed her to take some time to write articles and grant proposals for the projects. In the Spring of 2014, Rubel was awarded a Claire and Leonard Tow Professorship, which provided her with funding to support students who attended conferences with her to present their findings from their work on City Digits.
Rubel was recently awarded a Fulbright Fellowship to teach and conduct research at Tel Aviv University in Israel. 
She will be there during the Spring 2017 semester, collaborating with faculty members who she says once provided her inspiration. Rubel received her master's degree in mathematics education there some 20 years ago. She will be working with Israeli mathematics teachers on integrating themes of community and social justice into their practice.
"It is a huge honor to be selected for this fellowship," she says. "I am grateful for the opportunity."
Back to BC News