The Herbert Kurz Chair of Constitutional Rights will investigate how immigration courts decide gender-based asylum cases.
/web/new_2016news/160317_ImmigrationLaw_94x84.jpg
Political Science Professor Anna Law Wins NSF Grant to Further Research on Women Asylum Seekers
March 17, 2016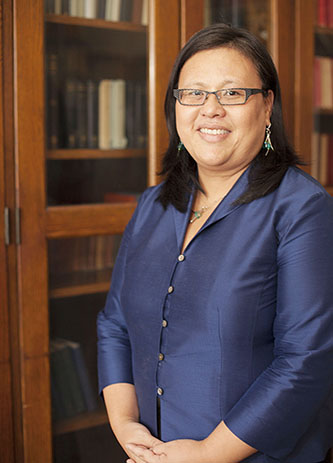 Can a woman arrested on the U.S.-Mexican border, as she flees domestic violence in her home country, seek asylum in the United States? What if she's bringing her children with her? Does she get pro bono legal representation when taken to the immigration court? Should they -- given that asylum decisions may have life-or-death consequences? Is there any sort of consistency in the rulings of the judges presiding over such cases?

These are just some of the questions Karen Musalo '73, a law professor at the University of California at Hastings, and Professor Anna Law of the Department of Political Science, will seek to answer as their research takes them through thousands of documents about how immigration courts—which are not part of the U.S. judicial system—decide gender-based asylum cases. Musalo and Law have recently received a grant from the Division of Law and Sciences at the National Science Foundation (NSF) to support their research. The collaborative project between co-principal investigators Law and Musalo, entitled "How do U.S. Immigration Courts Decide Gender-Based Asylum Claims," yielded an award of $79,497 to Brooklyn College (NSF #155655), and $185,948 to UC Hastings School of Law (NSF Grant #1556131).

"Because these women flee sexual and domestic violence in their home countries [and have no legal recourse there], they do not fit the profile of dissidents or political prisoners," says Law, who publishes an immigration blog, Unlawful Entries.

Since gender-based claims are not an explicit cause for protection from deportation, Law and Musalo have joined forces to undertake a study of the largest known repository of immigration court asylum decisions from around the country, stored at the Center for Gender and Refugee Studies of U.C. Hastings, which Musalo directs.

"We need to re-examine how gender-based claims are adjudicated in our asylum system by the Immigration and Naturalization Service judges," says Musalo.

Musalo, who graduated cum laude from Brooklyn College with a degree in comparative literature, is a leading expert on gender and asylum. She asked Law, the college's Herbert Kurz Chair of Constitutional Rights, to become her partner in this monumental task.

Thanks to the three-year NSF funding, the co-investigators will be able to hire two attorneys from the center to sort out and re-examine the data and request more information from the immigration courts through the Freedom of Information Act, in order to examine the rulings. Law will hire and train no less than two undergraduate students at the college to construct the database of the immigration judges' decisions.

"Immigration is a hot-button issue and asylum seekers and refugees are controversial," says Musalo. "There's been a long, sustained controversy over women who suffer violations of their human rights because they're women. This study will tap into deep and contentious political, legal, and moral issues."

The goal is to create a unique set of data to investigate factors that will help the co-investigators determine how factors, patterns, and precedents affect the courts' decisions. According to both professors, the unpublished nature of immigration judges' decisions (often not appealed) makes the people in those cases particularly vulnerable to the whims of adjudicators. Immigration courts are part of the country's executive branch's administrative system, not the judicial system.

"This unique study will examine a level of immigration bureaucracy never before studied in this regard," says Law. "Many women and children are the face of a continuing humanitarian crisis along the United States' southwestern border." She hopes their work will make a significant contribution to finding answers and solutions.

The author of The Immigration Battle in American Courts (Cambridge University Press 2010), Law has published extensively in social science and law journals. She investigates the interaction between law, legal institutions and politics. Law is a former program analyst at the bipartisan, blue-ribbon United States Commission on Immigration Reform. She has shared her expertise with the U.S. Senate Judiciary Committee, the Department of Homeland Security and the National Science Foundation. Her forthcoming book will look at immigration, federalism, and slavery.
Back to BC News