Night Sky With Exit Wounds (Copper Canyon Press), the first full-length work by the B.F.A. Creative Writing graduate, was released on April 5.
/web/new_2016news/160406_Vuong_94x84.jpg
Poet Ocean Vuong '12 Wins $50,000 Whiting Award for Emerging Writers
April 6, 2016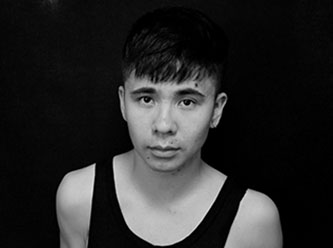 Poet Ocean Vuong '12 became the latest recipient of the prestigious Whiting Award, which comes with a $50,000 cash prize. The award, announced in March, is given to "emerging writers, and [is] based on the criteria of early-career achievement and the promise of superior literary work to come."
"Receiving this award meant I was being seen for my work—that a group of very smart and talented people in this art found my work valuable," says Vuong, who graduated from the Brooklyn College B.F.A. Creative Writing Program. "It meant I could keep going, that I could be wilder, even more formally ambitious, which is the true, inexhaustible gift. But don't get me wrong. The money helps a great deal, too."
"Six brilliant judges looked far and read deeply to settle on our ten winners, and we hope the support and encouragement of the award will free them up to do adventurous work," says Courtney Hodell, director of writers' programs at the Whiting Foundation, the award's sponsor.
Vuong is no stranger to acclaim. He is also the recipient of the 2012 Stanley Kunitz Memorial Prize for Younger Poets from The American Poetry Review for his poem "Prayer for the Newly Damned," and the 2013 Pushcart Prize for his poem "Self-Portrait with Exit Wounds." In 2014, he received a $40,000 grant from the Elizabeth George Foundation, which also supports emerging writers of great promise, as well as a Ruth Lilly Fellowship and a Dorothy Sargent Rosenberg Poetry fellowship.
"Once in a while you get a student who's not testing to be a writer, but who is already one," says MacArthur 'Genius' Fellow and Brooklyn College English Professor Ben Lerner, who was Vuong's mentor when he was a student at the college. "And I could sense Ocean was already a writer, eager to be challenged."
"The teachers believed in me when I did not," says Vuong. They showed me that not only being an artist was possible but that, despite financial uncertainties, it would be worth it if you make it so, if you permission yourself to be ambitious toward your work and humble and kind toward your fellow humans. They were right."
"Again and again, I am amazed by the brilliance of our undergraduate students, and I often catch myself making grandiose statements about our creative writing program," says Matthew Burgess '01, full-time English Department lecturer who teaches creative writing. "There are plenty of pronouncements that the borough of Brooklyn is a hub of literary culture, so maybe there is some osmosis going on. I also think that our diversity has something to do with it, and I witness first-hand the way our students inspire each other and raise the bar. It's not competitive—it's about exposure to different perspectives and a commitment to broadening the possibilities."
Currently a student in New York University's graduate creative writing program, Vuong has been very busy creatively, with poetry appearing in Best New Poets, Harvard Review, Kenyon Review, The Nation, New Republic, The New Yorker, Poetry, and The American Poetry Review. He is the author of two poetry chapbooks, No (2013) and Burnings (2010). Night Sky With Exit Wounds (Copper Canyon Press), his first full-length work, will be released on April 5.
"I hope it will be a book that speaks to our American moment by expanding and extrapolating on what it means to be an American. And by American, I don't mean in citizenship, but in the way our lives are experienced under the traumas, joys, and tensions concerning the historic and cultural geography of the United States," Vuong says.
The book launch for Vuong's latest work will be held on April 13 at Greenlight Bookstore in Brooklyn.
Back to BC News