"Value" on display at the Brooklyn College Library Art Gallery through September. 
/web/new_2016news/160617_bcnews_value-exhibit_94x84.jpg
Noted Kenyan Artist Brings his Work to Brooklyn College in a Bold New Exhibit
June 17, 2016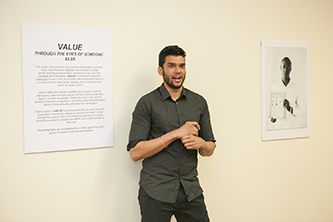 The work of Kenyan artist Tahir Karmali, who has been heralded by Forbes magazine as one of 15 young, creative Africans to watch, is currently on display at the Brooklyn College Library Art Gallery.
"Value," an exhibit that features a series of black and white portraits of Kenyan sex workers holding items of value to them, will be on display through September. It's the first time the images have been shown in the United States. The exhibit, which opened earlier this month, is sponsored by the Brooklyn College Art Department, the Brooklyn College Library, the LGBTQ Resource Center,  and the student club LGBTA.
"Some of the things I wanted to explore with this were perceptions of value and the thought process behind what men should be doing with their bodies," says Karmali. "Ultimately, I was focused on the idea of creating a narrative through these photos."
Born and raised in Kenya, Karmali began his career as a painter and later became interested in photography. Much of his work combines the two. He moved to New York just two years ago to pursue his master's degree in digital photography at the School of Visual Arts and is considered a leading young artist from Africa. His last exhibit, "jua kali," an Afro-futuristic, mixed media mash-up of images of workers in the underground economy in Nairobi, got good buzz in the New York and international art scene this winter when it appeared at United Photo Industries in Dumbo.
Christopher L. Richards, an assistant professor in the art department who is committed to bringing local artists to campus, first reached out to Karmali—now a Brooklyn resident—and they agreed to bring the "Value" exhibit to the college.
"I thought for this campus in particular, and for college-age students, these issues of sexuality and identity would resonate with our student population," says Richards.
Okayafrica, an online magazine that covers African culture, included the exhibit in a piece this month titled, "8 African Art Events You Need to See this May." The list included many notable galleries in the New York City area in addition to an exhibit at the Brooklyn Museum.
"Value" will close in the fall with a panel discussion moderated by Richards and featuring Karmali and two other young African artists that are New York-based.
Back to BC News