The decorated author and scholar is also a Guggenheim Fellow and the first poetry editor at Harper's Magazine. 
/web/new_2016news/160822_Lerner_94x84.jpg
MacArthur 'Genius' Fellow and Brooklyn College English Professor Ben Lerner Named CUNY Distinguished Professor
Aug. 22, 2016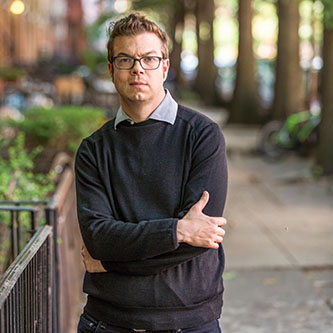 English Professor Ben Lerner, a 2015 MacArthur 'Genius' Fellow, and a world-renowned writer, has been appointed as distinguished professor of English at Brooklyn College, the highest ranking a CUNY professor can earn. The CUNY Board of Trustees named Lerner, along with three other CUNY professors, at a meeting earlier this summer. 
"Professor Lerner is a brilliant novelist, one of the most important poets of his time, and a superb literary critic who comments on art, aesthetics and culture," said the trustee resolution, which makes Lerner's appointment official on August 25.
A decorated writer, Lerner joined the college as an associate professor in 2010. His first novel, Leaving the Atocha Station (Coffee House Press, 2011), won the 2011 Believer Book Award and was named one of the best books of the year by The New Yorker, The Guardian, The Wall Street Journal, and The New Republic, among others. In 2011 he became the first American writer to win the prestigious German poetry prize, Preis der Stadt Münster für International Poesie, for the German translation of the Lichtenberg Figures. In 2013, Lerner won a Guggenheim Fellowship, and became the first poetry editor at Harper's Magazine. 
His MacArthur Fellowship, which has come to be known as the genius grant, put him in the company of the world's intellectual and creative elite. At the time, the MacArthur Foundation described Lerner's work as "transcending convectional distinctions of genre and style in a body of work that constitutes an extended meditation on how to capture our contemporary work."
Lerner teaches in the college's M.F.A. program in creative writing, where his mentorship has already paid off in the success of some of his students. "Mentoring—I learned from my own mentors and role models—is to know when to apply pressure to the person you take under your wing," Lerner said, "but without trying to turn him into someone like you. It involves respect."
His latest work, described as an extended essay, is called The Hatred of Poetry (FSG Originals, 2016) and was published in June to critical acclaim. In May he also published a story, "The Polish Rider," in The New Yorker's summer fiction issue. Lerner's forthcoming book entitled No Art will be published by Granta Books this winter.
Lerner has authored three books of poetry, which have been translated into German, Spanish, Italian, and Portuguese. He has been a finalist for the National Book Award in Poetry, A Fulbright Scholar in Spain, a Howard Foundation Fellow, and a recipient of the Terry Southern Prize for Fiction from The Paris Review.
Lerner earned an M.F.A. in creative writing and a B.A. in political science at Brown University. 
Back to BC News