International students participate in summer immersion courses at Brooklyn College.
/web/new_2016news/IntlEducation_ContelsLab_94x84.jpg
Education Without Borders
September 8, 2016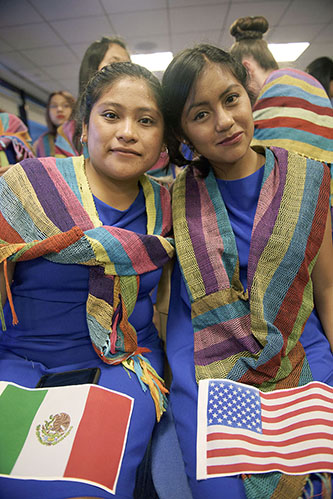 Brooklyn College is the crossroads of the world. Just ask Assistant Dean for Academic Programs Lucas Rubin.
"We've had a busy summer with about 190 students from three separate countries," says Rubin, who explained that this was an outgrowth of the college's American Language Academy program.
This year, the college welcomed 48 undergraduate students from Northern Chinese University of Technology, 22 graduate students from France's Institute Supérieur de Gestion (ISG), and nearly 90
(30 undergraduate and 60 high school) students from various institutions in the state of Puebla, Mexico.
The ISG contingent were graduate business students visiting to improve their English and attend a six-week American business management and finance program established by Associate Professor Veronica Manlow of the Koppelman School of Business. Students from Puebla were sponsored by their state to participate in an English-language and cultural immersion.
"We're repeating the STEM-oriented curriculum from last year," said Rubin, "but we have an additional program, also facilitated by the State of Puebla's Department of Education, called '1,000 girls, 1,000 Futures.' "
According to Puebla's Secretary of Education Patricia Vásquez, who participated in the graduation ceremony in late July, this is a new a joint program established by the New York Academy of Sciences, the U.S.-Mexico Foundation, and Brooklyn College to provide support for female high school students in remote communities who are interested in pursuing STEM (science, technology, engineering and mathematics) careers.
Secretary Vásquez noted that seven out of ten girls in her state hope to go to college to pursue a career, but that only two in ten actually manage to do so. "These young ladies come from very traditional homes in that state's countryside that expect them to stay in the communities to eventually help with domestic needs," Vásquez said.
"The goal," Rubin added, "is to increase and diversify our relationship across Mexico, expanding opportunities for faculty and students in both countries."
According to Jesús Pérez '93, director of the Center for Academic Advisement and executive director of the CUNY Mexican Task Force, Puebla's Department of Education assigns mentors to work with each student during their senior year to improve their English language and academic skills. "But the New York Academy of Sciences also connects each student with an online bilingual mentor who will assist them and prepare them for the immersion program in New York City," said Pérez, who is the college's liaison to Puebla's Department of Education and, together with Rubin, coordinated the students' travel arrangements, among other things.
Even before arriving in New York, high school students like Laura Monserrat, who is in her senior year at the School of Scientific and Technological Studies at Tlaolantongo, wanted to study biotechnology. Coming from an economically challenged community in Puebla's highlands, her dream might have remained one had she not been chosen to participate in the STEM immersion program. After visiting Associate Professor Maria Contel's chemistry lab, the goal of becoming a scientist seemed more attainable.
"I saw a woman just like me, trying to develop a substance that could track the route of a medicinal compound to its target to see how it affects the human body and attacks a microbe. Fascinating," she said.
But not all of it was hard work.
"We had to combine the instructional component with entertainment and sightseeing," Lucas clarified.
And Beatrice Tony-Jean, coordinator of graduate studies at the associate provost's office, prepared activities on and off campus to complete the students' experience of life in the United States, including visits to New York landmarks such as the Statue of Liberty, the Empire State Building, and St. Patrick's Cathedral. She also created joint activities and games for the international students to enrich their cultural experience.
The instructors who oversaw the language sessions with the students, like psychology graduates Shana Palladino '16 and Rihan Allomari '16, were required to take a six-month training course with the American Language Academy.
"Some of the students have English grammar down already but they just need the validation to build up their confidence and use the language more often," said Alomari, who teaches Arabic to children in her spare time.
"Like everyone else in the world, they are all savvy in American pop culture," Palladino said. "So we could use singers and actors as props in conversations to help them communicate with one another."
"The 1,000 girls program has improved my chances to succeed," said a teary-eyed Monserrat at the July 29 graduation ceremony at Hunter College, a sentiment shared by her classmates, now ready to head back to their communities and work hard to become college students and possibly return to study in the United States.
The program's goal was perhaps better summarized by Vásquez. "This is opening doors to many and we want to continue to do it," she said. "Because it provides opportunities for the students and our nations to work together."
Rubin couldn't agree more.
"A success like this expands the international reputation of our college," he said, adding that broadening the college's international mission—and CUNY's global mission—to other countries in Europe, Asia, and the rest of the world, "is a win-win for all."
Back to BC News