Thanks to this grant, Brooklyn College will work with schools and other organizations to investigate the impact of climate change and extreme weather, and present findings to the Mayor's Office.
/web/new_2016news/Jamaica_Bay_94x84.jpg
Brooklyn College Receives $500,000 From NOAA To Promote Coastal Resilience Through Environmental Literacy
Sept. 22, 2016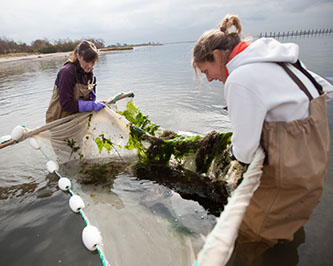 Brooklyn College is one of five institutions to receive a $500,000 grant over three years from the National Oceanic and Atmospheric Administration (NOAA) to promote coastal resilience through an environmental literacy project. The project will build on local resilience plans, and create new partnerships among K-12 schools, informal education institutions, and government and non-profit organizations working on resilience planning and implementation.

NOAA received 170 applications from 40 states, the District of Columbia, and three U.S. territories, with a total request of more than $77 million. The five wining projects were selected for funding following a highly competitive request for applications in which communities highlighted their needs for education projects that build resilience.

"I'm particularly excited about this project," said Brooklyn College Urban Sustainability Program Director Brett Branco. "I will be working with the National Wildlife Federation's NYC EcoSchools, New York Sea Grant, and the Brooklyn STEAM Alliance—a collaborative group of city schools, scientific organizations, and community groups—to engage students in investigating the impacts of climate and extreme weather on their schools and their neighborhoods." Branco is also a professor in the Department of Earth and Environmental Sciences and a founding researcher in the Brooklyn College-led Science and Resilience Institute at Jamaica Bay, created shortly after Hurricane Sandy in 2012.

"Another step in bringing STEM education to high school students in Brooklyn and Queens is providing these students with a platform to be involved in NYC schools' response to climate change," said Brooklyn College Provost William Tramontano.

Working with NWF Eco-Schools USA, Brooklyn College will create the Resilient Schools Consortium (RiSC) Program that increases environmental literacy while engaging high school and middle school students in climate resilience planning and practice in New York City. The RiSC teams will then follow a resilience assessment process modeled after the NOAA Community Resilience Index.

The group will develop ideas for resilience projects for their schools and neighborhoods and present them to the Mayor's Office of Recovery and Resilience and NYC Department of Education officials. Student RiSC teams at Brooklyn public schools that were impacted by Hurricane Sandy will utilize a new Climate RiSC Curriculum to explore the vulnerability of their schools and neighborhoods to climate change, variability, and extreme weather.

The RiSC Program and Climate RiSC Curriculum will be integrated into National Wildlife Federation's Eco-Schools USA program and disseminated nationally through the networks of the project partners. 
Back to BC News