President Michelle Anderson thanks advocacy group for disabled students, local officials, and the NYC Department of Transportation, among others, for efforts to make campus and surrounding areas safer.
/web/new_2016news/161006_Sofedup1_94x84.jpg
Ribbon-Cutting Marks Opening of New Access-A-Ride Shelter on Brooklyn College Campus
October 6, 2016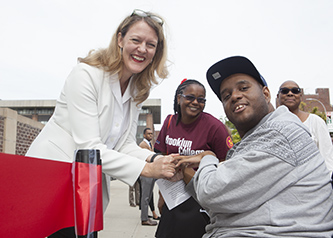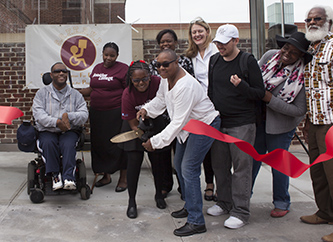 On September 27, President Michelle J. Anderson joined S.O.F.E.D.U.P (Student Organization for Every Disability United for Progress), a student advocacy group for disabled members of the Brooklyn College community, at a ribbon-cutting ceremony to celebrate the opening of a new Access-A-Ride shelter on Bedford Avenue. The stop was created in response to the need for a sheltered space to wait for pick-ups.

"This day wouldn't be possible without the advocacy work of the members of S.O.F.E.D. U.P.," said President Anderson. "This shelter physically, but also symbolically, increases access to Brooklyn College, and for that we are truly grateful."

New York State Council Member Rodneyse Bichotte (District 42), which includes the Brooklyn College campus and surrounding neighborhoods, also attended.

The Bedford Avenue shelter was made possible by collaboration among S.O.F.E.D.U.P., Brooklyn College Department of Student Affairs and the Department of Facilities, the MTA/New York City Transit Authority, the New York City Department of Transportation, local elected officials, and the local Community Planning Board.

The new shelter is the latest in improvements the Department of Transportation has made to the campus area to make it safer for pedestrians, cyclists, and motorists, including new crosswalks and pedestrian ramps on the sidewalks, a larger more visible crosswalk on Bedford Avenue connecting the East and West Quads, an adjusted traffic signal to allow pedestrians more time to cross, and freshly repainted travel and bike lanes.

"The success and graduation rates of students with disabilities increase when they are in a safe and supportive environment." said S.O.F.E.D.U.P President Stacey Ann De Souza.

The new Access-A-Ride shelter is located west of Bedford Avenue, south of Campus Road, outside of Roosevelt Hall.

Learn more about accessibility at Brooklyn College at the Center for Student Disability Services.


Back to BC News