Early Childhood/Art Education's multi-disciplinary faculty includes psychologists, therapists, art educators, and social workers.
/web/new_2016news/EarlyChildhood_94x84.jpg
Teacher.org Ranks Brooklyn College's Early Childhood Program Second in the Nation
Oct. 19, 2016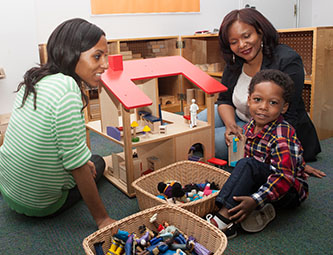 The Early Childhood Program in the Department of Early Childhood Education/Art Education (ECAE) was recently ranked second in the nation by Teacher.org on its "Best Colleges" for early childhood education list.

Teacher.org's selection among 425 top qualifying colleges was based on such criteria as graduation rates, on-line offerings, and affordability. In addition, Teacher.org made special note of the fact that the program focuses on arts in the classroom and guiding young children as they discover the world around them.

"It's been a delight to share this wonderful recognition with the rest of our talented and dedicated faculty," said Professor Jacqueline Shannon, the department's chair. "They worked tirelessly to develop our unique approach into a national leader in early childhood teacher education and research and in program development and policy-making within New York City and the state," she added.

According to Shannon, the programs-applied research, curriculum development, and pedagogy are driven by the ECAE faculty's deep understanding of child development and their commitment to quality early childhood education and care for all young children and families, which help to support children's school readiness and family engagement.

"While many schools of education in the United States have seen declines in enrollment across the board in recent years, Brooklyn College's Early Childhood graduate program has seen an increase in enrollment of 62 percent since 2013 — from 142 to more than 230 students today," Shannon said.

This increase follows the development of several innovative, graduate-level initiatives, including: an advanced certificate in early intervention (EI) and parenting, supported by the NYC Bureau of Early Intervention; an full on-line advanced certificate in early intervention pathway supported by CUNY; an art, play, and technology concentration; and early childhood bilingual and early childhood special education extension options.
There are also 400 undergraduate students who seek either an early childhood, or an early childhood /early childhood special education certification as the department partners with community colleges to ensure a smooth transition for transfer students.

Committed to preparing students to teach culturally and linguistically diverse children and families to serve in high-need communities, the ECAE faculty have developed fieldwork and research partnerships with off-campus early childhood programs in various settings, including Head Start, early intervention programs, childcare centers, local schools, family homes and hospitals, as well as at the Brooklyn College Early Childhood Center laboratory. Building on the diversity of the student body and faculty, the Department has developed relationships with program in Sweden, Greece, China, India, and Saudi Arabia.

"This is a well-deserved award for this enterprising faculty and department," said Dean April Bedford of the School of Education. "They are all deeply involved in forming high-quality early childhood teachers for the diverse communities throughout New York City."

The mission of Teacher.org is to continuously inform and encourage aspiring and current teachers. Their "Best Colleges" rankings use the Integrated Postsecondary Education Data System (IPEDS) as the raw data starting point. More information on the methodology is available here.
Back to BC News