The author is the first American to win Britain's most prestigious literary award. 
/web/new_2018news/161026_PaulBeatty_94x84.jpg
Paul Beatty '89 M.F.A. Receives Man Booker Prize for his novel The Sellout
October 26, 2016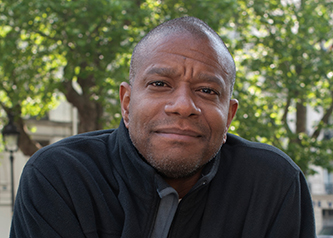 Brooklyn College alumnus Paul Beatty has won the Man Booker Prize for Fiction for his work The Sellout (Oneworld, 2015), a biting satire about race in America. Beatty is the first American to capture the top British literary prize, known as the award that honors "the finest in fiction," and which comes with a cash prize of 50,000 British pounds and a designer bound edition of the book. 
"At some level I wanted to write what hopefully would be an important book. At some level I was aware that I was trying to do that. And so for me, it's just really gratifying that something that's important to me for any number of reasons is also important to other people who don't know me," Beatty said during a press conference after the award ceremony in London. "I think any writer is trying to do that."
The five-judge panel that determined the winner was unanimous in its decision.
"The Sellout is a novel for our times. A tirelessly inventive modern satire, its humor disguises a radical seriousness," said Amanda Foreman, the chair of judges this year. "Paul Beatty slays sacred cows with abandon and takes aim at racial and political taboos with wit, verve and a snarl."
The recipient of the Booker prize often goes on to skyrocketing book sales, an aim of the award's founders, who look to "increase the reading of quality fiction."
"Paul Beatty has been praised not only for his willingness to challenge the disastrous order of the moral universe but to do it in his stylistically and linguistically brilliant ways," said Ellen Tremper, chair of the Department of English. "He touches a nerve that should be touched, and has done us the service of entering the important conversation of social justice."
Winner, earlier this year, of the National Book Critics Circle fiction award, and the first-ever Nuyorican Poets Café grand slam poetry champion, Beatty is the author of several novels and books of poetry, including Big Bank Take Little Bank: New Cafe Poets, No. 1 (Nuyorican Poets Cafe Press, 1991); Joker, Joker, Deuce (Penguin, 1994); The White Boy Shuffle (Houghton Mifflin, Picador, 1996); Tuff (Alfred A. Knopf, 2000); and Slumberland (Bloomsbury USA, 2008). 
Beatty was the keynote speaker at the master's commencement ceremony this past June, where he also received the Brooklyn College Distinguished Alumnus Award. During the ceremony, he spoke of his time as a graduate student. 
"Brooklyn College was where I learned not how to write necessarily, but how to think about writing," Beatty told the crowd at the 2016 commencement exercises. "I had a few professors who helped me a great deal. Tucker Farley's seminars helped me develop an eye and feel for nuance. She never stopped peeling away the layers. Allen Ginsberg's generosity, his oddball stories, and his boundless love for poetry and process, always left me grateful and thinking, 'I didn't know you could to that.' And his insistence on clarity forced me to be precise. But Lou Asekoff was the professor who was most instrumental in my growth. His patience, insight and encouragement helped me figure out not only what I wanted to say, but more importantly, how I wanted to say it." 
Back to BC News