Alumni return to college to speak at Magner Center panel about how to create a winning career. 
/web/new_2016news/Glass_94x84.jpeg
Secrets of Success
November 4, 2016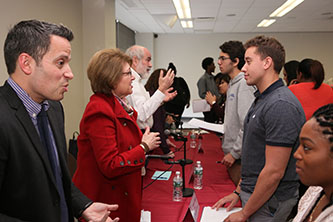 The Magner Career Center and The Honors Academy recently held a speaker panel called Secrets of the Highly Successful, featuring four alumni with notable careers. The panel was one of many speaker series the center holds throughout the year to help students improve their career skills and raise awareness about the professional landscape.
The Magner Center helps provide students--through partnerships with employers, alumni, and faculty and staff—the skills and opportunities essential to fulfilling their career aspirations. They have awarded more than $1.7 million in internship stipends to more than 400 students.
The panel included Mary Coyle '91, a media relations executive who has worked on strategic marketing and media exposure initiatives in the healthcare industry; Daniel Glass '77, a music industry impresario who has worked with a variety of artists from Billy Idol to Erykah Badu, and who founded his own entertainment group that includes a award-winning indie label, Glassnote; Daniel Greenberg '66, an attorney specializing in landlord-tenant law who served as the co-lead counsel on a class-action lawsuit for victims of hurricane Katrina; Marge Magner '69, a banking executive and one of the most powerful women in the New York finance world; and Raphael Miranda '06, a meteorologist at WNBC.
"If you don't know what you want to do, it's not terrible," said Magner, who told the students she came to Brooklyn College with no plans other than to not do what her parents wanted her to do. "Sometimes you know it's in your heart and you go for it, and sometimes you have to listen to the external voices."
Magner is the benefactor of the college's career center and a founding member and general partner of Brysam Global Partners, a private-equity firm that invests in consumer financial services in emerging markets. She has been named to Fortune's list of Most Powerful Women in Business, Forbes' list of the World's Most Powerful Women, and U.S. Banker's list of the Most Powerful Women in Banking. She has also previously served as chair of the Brooklyn College Foundation.
"Our goal is to one day see many of you on this panel," Natalia Guarin-Klein, director of the Magner Center, told the students. 
The students said they felt lucky to have such a distinguished panel on campus.
"There was a nice mix of professionals on the panel. I thought they all gave very good advice," said junior Audrey Bleier, an earth and environmental sciences major. "I especially appreciated when they spoke about the need to challenge your comfort zone and being open about opportunities that arise."
Glass told the students that the three most important qualities they'd need were the ability to work hard, the curiosity to constantly seek more information, and lot of hustle.
"If you're from Brooklyn, you already have the hustle gene," he said.
Back to BC News