Chukwunonso Nwasike's plans to become a pediatric oncologist and help children with cancer have moved closer to success.
/web/new_2016news/Nonso_94x84.jpg
Brooklyn College Junior Earns $5,000 Virginia B. Toulmin Scholarship
November 21, 2016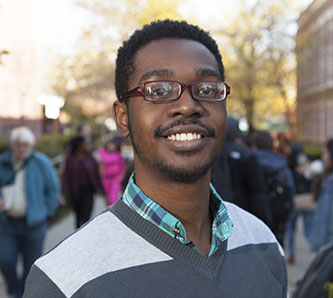 Chukwunonso Nwasike, a junior in the Scholars Program who is double majoring in biology and philosophy, recently won a $5,000 scholarship from the Virginia B. Toulmin Foundation. The aspiring pediatric hematologist/oncologist says he will likely use the funds to pay for a preparation class for medical school exams and to perhaps take a winter intersession course.
"This is an exciting victory that will help propel me towards what I want to do," says Nwasike, who adds he was more honored by the recognition than the financial award.
Nwasike, who is also a short story writer and published poet, says he has always been attracted to the sciences because "they explain how things work" and he has always enjoyed working with children, so becoming a pediatrician was a natural choice.
He has spent a good deal of time working with kids, having taught Sunday School and currently volunteering with two organizations that go into public schools to teach kids about health-related issues.
He has also been a recipient of the Seymour Richman Memorial Scholarship and the David and Jessica Hammer '38 Memorial Scholarship, both given out by the biology department.
The Virginia B. Toulmin Foundation is dedicated to helping improve the lives of children across the country. Nwasike was a counselor at one of their summer camps for children with cancer. His work at the camp qualified him to be considered for the scholarship.
Back to BC News