The Department of Film chair has dedicated her 30-year career to promoting media practices that contribute to personal and political growth.  
http://www.brooklyn.cuny.edu/web/new_2017news/Alexandra_Juhasz_Film_94x84.jpg
Noted Filmmaker and Feminist Scholar Alexandra Juhasz Merges Art and Activism in Her Scholarship
March 1, 2016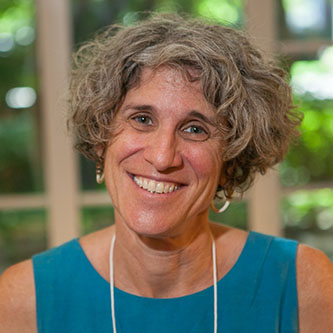 Film Department Chair Alexandra Juhasz recalls last summer when she just could not look at the video made by Diamond Reynolds, the black Minnesota woman who live-streamed the aftermath of her fiancé's shooting by local police officers during a traffic stop.
"I was suffering like we all were in the face of horrible images, trying to make sense of it all," she says, explaining a piece she ended up penning for Jstor Daily, the digital digest where academics analyze the latest news. "I automatically went to where I think my voice is important. I've spent a career thinking about video, how we consume and understand it."
Juhasz, whose scholarship centers video consumption, feminism, AIDS, and the radical uses of new media, has spent a good part of her more than 30-year career arguing that greater visibility for underrepresented groups is vital for socio-economic progress. She studies media practices that contribute to personal and political growth.
Juhasz has also spent her career jumping headfirst into thorny thickets, comingling issues of race, class, feminism, sexuality, and social activism with the mediums she knows best—film, video, and now, social media. She is thought to be one of the first professor to have taught a college course entirely on YouTube. She has produced nearly 15 educational documentaries on topics like teenage sexuality, AIDS, and sex education.
One of her most prominent and enduring projects has been her work on the groundbreaking film The Watermelon Woman—the first feature film by a black lesbian—which she produced 20 years ago with her former partner, Cheryl Dunye, the writer, director, and lead actress with whom Juhasz shares two children.
Digitally re-mastered and re-released in time for Black History Month, the film enjoyed a rebirth of sorts for its 20th anniversary, celebrated with screenings and panel discussions at museums, colleges, and film festivals across the country. The film will be screened at the Schomburg Center for Research in Black Culture later this month.
"The ideas from the film are actually very relevant right now," says Juhasz. "A lot of it is about the complex dynamics between black and white people. It's about whose stories have been saved and who controls history. It's kind of cool that you can make something that 20 years later still feeds people."
Since earning her Ph.D. in cinema studies at New York University, Juhasz has taught at Swarthmore, Bryn Mawr, and Pitzer colleges, as well as Claremont Graduate University.
She comes to Brooklyn College as the chair of the Film Department and during the early days of Brooklyn College's Feirstein Graduate School of Cinema. With a student body of 200, more than 50 percent of whom are women, and nearly 50 percent students of color, she, like the new school, is committed to making sure that new voices get a chance to tell their stories.
"There's no film school in the country that looks like Feirstein does," she says. "One of the reasons I'm proud to be at Brooklyn College is the diversity. It isn't always harmony, but we inhabit this space with a lot of integrity."
It also makes the college ripe for what she says are some difficult but necessary conversations that need to happen.
"My work in media activism and social justice is always about finding a way to bring film and public intellectualism together. I always thought that when the masses had access to cameras, there would be a revolution. It's what you make art for," she says. "Bring on the revolution."
Back to BC News