Three distinguished panelists discuss the challenges they overcame to achieve success, and how they have used their careers as springboards for activism in the Haitian community.
/web/new_2017news/170302_Haitianthumbnail_94x84.jpg
The CUNY Haitian Studies Institute and Brooklyn Center for the Performing Arts at Brooklyn College Collaborate on "Voices from Haiti: Artists as Activists"
March 3, 2017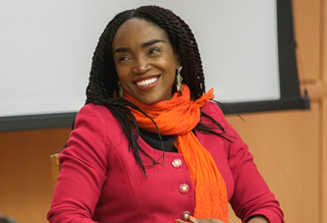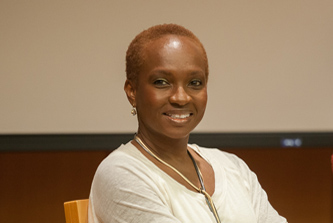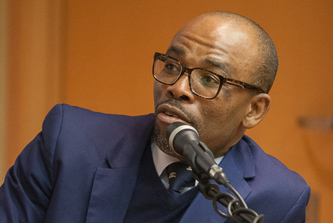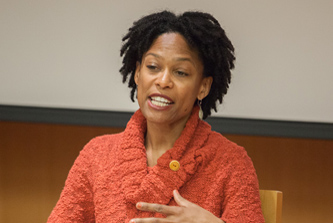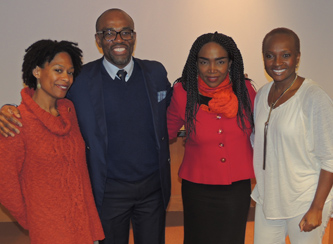 On March 2, renowned Haitian singer/songwriter and Red Cross Ambassador Emeline Michel joined filmmaker and journalist Cassandre Thraysbule, and Régine Roumain, executive director of Haiti Cultural Exchange at Brooklyn College for "Voices from Haiti: Artists as Activists." The panel discussion, presented by the Brooklyn Center for the Performing Arts at Brooklyn College and the CUNY Haitian Studies Institute, was moderated by the institute's founding director, Professor Jean Eddy Saint Paul. The participants discussed what first brought them to activism, and some of the challenges they have faced in their careers, as well as offered advice and encouragement to those seeking to contribute to the Haitian community both in the United States and abroad.
"I witnessed my mother selling coca cola and cassava to the neighborhood to earn money on the side," said Michel of her childhood in Gonaive, Haiti. "I would see her going out of her way to give cola and cassava to a child with hungry eyes. She did not have to do that, and the business did not last three years, but an entire neighborhood got fed. That is one of the first acts of activism I saw." Observing this at such an early age is what Michel says inspired the lyrics to her first hit song "Ayiti, Peyi Soley," which helped launch a career that has taken her to Carnegie Hall, the United Nations, and numerous jazz festivals worldwide.
"In the last lines I say Haiti is not a land, it's you and me and we can work for change," she said. Today Michel runs her own Brooklyn-based production company, Cheval de Feu, and focuses on women and children's issues in her music and activism. Michel gave a concert at the Brooklyn Center for the Performing Arts on Saturday, March 4.
Régine Roumain spoke of the challenges that artists of color, particularly Haitian artists, face and the challenges that she and her small staff at the Brooklyn-based Haiti Cultural Exchange work to help emerging and mid-career artists overcome. "Our artists are our cultural ambassadors," said Roumain, who was born and raised in Brooklyn, and moved back to Haiti with her family in 1986 after the Duvalier dictatorship was finally toppled.
This experience shaped her and helped her define her own brand of activism: changing social exclusion into social inclusion. "The challenge has been the lack of opportunities and funding, but also there were no elevated platforms for Haitian artists." Roumain explained that an introduction to an entity such as the Brooklyn Museum is much easier if the Haiti Cultural Exchange, which she started eight years ago, speaks to the museum about the artist "institution to institution." Along with advocating for Haitian arts, the Exchange has through various programs, brought to the fore the richness of Haitian culture. Her abiding goal is to mesh the local artists' community with the larger network that is New York City. "We are looking to holding our fourth biennial Haiti Film Festival in May," said Roumain.
Cassandre Thrasybule's road to activism has come by way of her 20-year career as a news anchor, a television, radio, and print media reporter, and now a documentary filmmaker. Cassures: Nos familles entre Haiti et ailleurs (Haitian Families Between Here and There) examines the fracturing of Haitian families, as fathers are forced to live and work in Haiti, while mothers and children live abroad in the diaspora. Thrasybule is not content to just screen her film. "I work with the families. After the film, we have a discussion and people tell me what is happening to them, and how this particular situation is affecting them." A special screening of Thrasybule's film will be held at the United Nations on March 31.
 When, during a question and answer period, a Brooklyn College senior asked what he could do for his fellow Haitians, though he had not been to the country since he was a child, Michel replied: "Go back for a visit first."
"Go back," echoed Thrasybule and Roumain, "Go back, and then you will see what you can do. It is the best thing you can do to figure out what you can do," said Roumain.
"We each have some level of activism within us," said Thrasybule. "Whatever talent you have, it is your responsibility to use it to the benefit of the less fortunate."
"Voices from Haiti: Artists as Activists" is part of We Stand Against Hate (WSAH), an initiative spearheaded by President Michelle J. Anderson in response to challenges the college has faced with conflict on campus. Throughout the spring semester, the initiative will continue to feature lectures, panel discussions, workshops, concerts, programs, and events that will elevate discourse around controversial and difficult political issues, and foster inclusiveness and peace on our campus.
Back to BC News