Shannon Ryan plans to show the film industry the inherent value in her unique life experiences.
/web/new_2018news/ShannonRyan94x84.jpg
Feirstein Student Earns British Film Academy's First Award for a Student with a Disability
March 13, 2017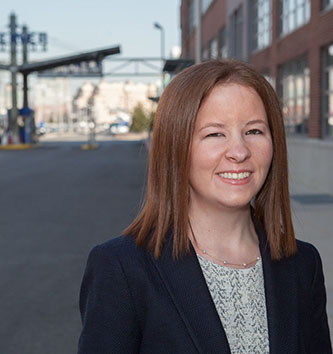 During recovery after her many surgeries, Shannon Ryan always had movies. The first-year student in the producing track at Brooklyn College's Barry R. Feirstein Graduate School of Cinema experienced 16 surgeries in total before she was 11 years old, mostly to try to restore some of her hearing loss.
"I'd lay in my hospital bed just watching movies," she says. "They got me through some of my toughest times." 
Her love of movies has also brought about some of the best of times for Ryan, who sought comfort and inspiration from movies when she was bullied by her peers in school. She ended up channeling her vision, passion, and knack for storytelling into producing short films while she was in high school and snagging some well-heeled Los Angeles production company internships as an undergraduate and just after she completed her bachelor's degree.
Recently, the young woman who was told she might never even attend college because of the life-altering complications of Coffin-Lowry Syndrome—a rare genetic disorder that has caused partial hearing loss and other developmental issues—was named the first Woman of her Word Disabilities Scholar, an award presented by the British Academy of Film and Television Arts, known as BAFTA. 
"I was completely over the moon when I found out I had won," says Ryan, who will receive $5,000 towards her studies, an industry mentor, and access to events sponsored by the academy. "I hope to use the honor to help pave the way for more diversity of all kinds in the industry, both on screen and behind the scenes."
The scholarship was established this year with the support of Michele Spitz, a benefactor who supports assistive technology and accessible services for the arts, and underwrites cultural programs that serve disabled, senior, and veteran communities.
"It's very apparent that Shannon will appropriately integrate her life experience and artistry into her media endeavors that will inevitably impact many people," says Spitz.
Ryan said that the award and the encouragement she has received from Spitz have pushed her to flip her disability into an advantage, to see it as a unique and valuable viewpoint that she brings to the industry.
"I've always struggled not to downplay my disability and to find value in it," says Ryan, who wears a pair of hearing aids and says her dream job would probably be working at Disney or Dreamworks. "Now I see it as something valuable that can foster my art."
She says she'd like to make movies that have more roles for people with disabilities and she'd also like to be an important industry presence to remind other professionals of the benefits of the diversity she brings.
Being at Feirstein—where 45 percent of students are people of color, more than half are women, at least a half dozen have a disability and many come from all walks and socio-economic backgrounds—is affirming, says Ryan.
"The diversity really shows when we are in class pitching story ideas and getting feedback from each other," she says. "It's clear we'll bring the industry new perspectives."
BAFTA is an independent charity that supports, develops and promotes the art forms of the moving image by identifying and rewarding excellence, inspiring practitioners and benefiting the public. In addition to its awards ceremonies, BAFTA has a year-round, international program of learning events and initiatives that offers unique access to some of the world's most inspiring talent through workshops, master classes, scholarships, lectures and mentoring schemes, connecting with audiences of all ages and backgrounds across the UK, Los Angeles and New York. 
Read about past Brooklyn College BAFTA award winners here. 
Back to BC News