The Brooklyn College president is joined by alumnae, former politicians, and other successful women helping to counsel the next generation of leaders. 
/web/new_2017news/womensleadership_94x84.jpg
At Women's Conference the Focus Is on Career Equity, Self Image, Work-life Balance, and Finding One's Path
March 23, 2017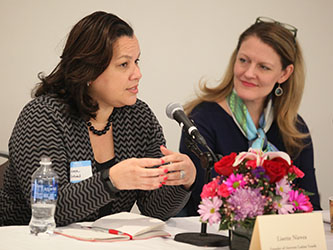 There was a lot of frank girl talk, the kick-off-your-heels kind where highly successful women admit that there are days when—despite their many accomplishments—the demands of motherhood and career can make them feel stretched thin. The kind of talk where savvy ladies advise you about controlling your own money and therefore your destiny. Where trailblazing females let you in on a little secret: You don't have to have it all figured out.
There, in the Student Center at the Women's Leadership Conference, which was organized by the CLAS Student Government, they laid it all on the table.
"I didn't know, when I was your age, which path was right for me," President Michelle J. Anderson shared with the young women. "There's no right path. There's no wrong path. Pick one. It takes commitment, hard work, time, and luck. You will make your path."
One of the event's primary goals was to impact the leadership capability of women. In addition to Anderson, the guests and panelists included Lisette Nieves '92, a former Rhodes Scholar, part-time professor, and the co-founder of a consulting company; Una Clarke, a CUNY trustee and former New York City councilmember; Rhoda Jacobs '62 a former New York State Assemblywoman; Mary Lu Bilek, dean of the CUNY School of Law; Andrea Shapiro Davis, associate vice chancellor of CUNY; and Marian Guerra, founder and president of New American Leaders Project.
The daylong event, attended by roughly 100 students, featured two panels, a keynote address by Davis, a job workshop, and a reception.
Jacobs pushed the young ladies to always fight for equity and to keep a stiff upper lip. "When you go for a job, you better find out if you're making the same as the men," she said, noting that her family made it clear early on that life wouldn't be easy or fair. "I was told that one, I was going to be successful; two, it was going to be twice as hard because I'm a woman; and three, so what?"
Anderson went on to encourage the young women not to give in to standard preconceptions around how a woman should present herself.
"Be yourself, be confident in your body, and project it," she said, recounting how she struggled to find a balance between dated notions of "dressing for success" and her own ideas about clothing that was both comfortable and appropriate for her job title.
Nieves, after noting that there were many first-generation college students in the room who tend to "carry the dreams of everyone else in their family," encouraged the students to stay focused on their own personal goals. "Whose dream are you living?" she said.
Brooklyn College has a long list of successful alumna, including photographer Charlotte Brooks '40, Congresswoman Shirley Chisholm '46, Senator Barbara Boxer '62, and author Gloria Naylor '81 among many others.
Back to BC News