For more than 20 years, Leonard Tow '50, and Claire '52, have given generously to their alma mater. The awards presentation and luncheon celebrated the work of the best and brightest among the college's educators and learners.
/web/new_2017news/Tow_94x84.jpg
Tow Foundation Rewards Outstanding Achievements of Brooklyn College Faculty and Students
Apr. 27, 2017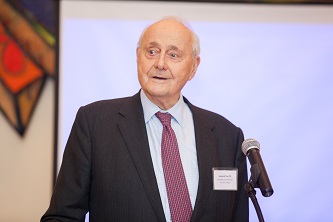 The Tow Foundation held its annual award presentation and luncheon in the Christoph M. Kimmich Reading Room of the Brooklyn College Library on Tuesday, April 25, to honor the outstanding research and scholarship of Brooklyn College faculty and students. Established in 1988 by Leonard Tow '50, who attended this year's luncheon, and his wife Claire '52, the foundation "envisions a society where all people have the opportunity to enjoy a high quality of life and have a voice in their community, supporting nonprofit organizations that serve vulnerable populations and help individuals to become positive contributors to society for the benefit of themselves and others."
Among the recipients of 2017-18 Tow Professorship Award were Professor Paisley Currah (political science), Professor Alexander Greer (chemistry), Professor Tammy Lewis (sociology), Professor Jennifer McCoy (art), and Professor Laura Rabin (psychology). Faculty recipients of Tow Professorships receive $25,000 in support of exceptional and ongoing projects. A detailed description of their scholarship is included below.
The 2016-17 Tow Professors were also recognized. They include Jillian Cavanaugh, associate professor of anthropology and archaeology; Joshua Fogel, professor of business management; Shuming Lu, professor of speech and communication arts and sciences; Kip Marsh, associate professor and chair of the Department of Theater; and Judylee Vivier, professor and director of the M.F.A. Program in Acting.
Other awardees included the Claire Tow Teaching Award, received by Associate Professor Jennifer Ball (art); and Myles Bassell (lecturer and deputy chairperson in the Department of Business Management). Additionally, over two dozen professors and more than 10 students received Leonard '50 and Claire '52 Tow Faculty and Student Research Travel Fellowships.
For more than two decades, the Tows have demonstrated their deep commitment to their alma mater through The Tow Foundation, which has provided endowments for student internship programs, student scholarships, faculty travel fellowships, and undergraduate travel stipends for students to conduct research outside of the United States. Their generous gifts to the college have totaled more than $16 million dollars. This continuous support to Brooklyn College as a whole includes the Tow's role as lead donors for the Leonard & Claire Performing Arts Center at Brooklyn College. Leonard Tow is a member of the Board of Trustees of the Brooklyn College Foundation.
To learn more about how to support the college and its mission, please visit the Brooklyn College Foundation website.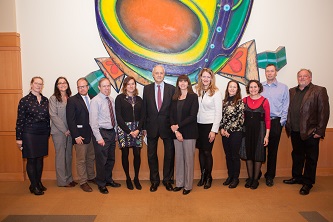 2017–18 Tow Professors
Paisley Currah
Paisley Currah is a professor in both the Department of Political Science and the Women's and Gender Studies Program. He is a leading scholar on transgender studies and was featured in Time magazine's famous cover story on transgender America. His is the co-founder and editor of Duke University Press' Transgender Studies Quarterly and was previously the director of CUNY's Center for Lesbian and Gay Studies.
Alexander Greer
Alexander Greer is a professor in the Department of Chemistry. He has gained national and international recognition as an expert in global health problems, with a focus on photosensitization, oxygen chemistry, interfacial chemistry, and drug delivery techniques, most notably a process called "pointsource" photodynamic therapy, a fiber optic method of precision eradication of cancer cells in vitro.
Tammy Lewis
Tammy Lewis came to Brooklyn College as the Carol Zicklin Chair of Interdisciplinary Studies and has since joined the Department of Sociology and the Urban Sustainability Program, and currently serves as director of the Macaulay Honors College at Brooklyn College. Her scholarship examines the effects of globalization on environmentalism and sustainability, while also looking at "green gentrification" in urban areas.
Jennifer McCoy
Art Department Professor Jennifer McCoy has worked in collaboration with her husband, artist, and NYU professor Kevin McCoy, to create multimedia artworks that use video installation and sculpture to examine the genres and conventions of filmmaking, memory, and language. The McCoys were 2011 Guggenheim Foundation Fellows, and their work can be seen in the collections of the Museum of Modern Art and the Metropolitan Museum of Art.
Laura Rabin
A professor in the Department of Psychology, Laura Rabin's primary area of research is the identification of early indicators of cognitive decline and biomarkers for Alzheimer's disease in older adults. She maintains a clinical practice focused on older adults with various cognitive and psychological disturbances. She is also an associate editor for the international multidisciplinary Journal of Alzheimer's Disease.
Back to BC News