The event, now in its 25th year, recognized authors of more than 50 new titles. 
/web/new_2017news/chele_94x84.jpg
Faculty and Staff Authors Celebrated at Brooklyn College Annual Book Party
May 9, 2017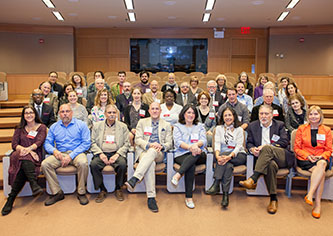 Brooklyn College faculty and staff authors were honored on May 9 at the Brooklyn College Library's 25th annual book party. The event, first held in 1993, celebrates those authors who have written, co-written, edited, or co-edited a book within the past year. More than 50 titles were presented this year, covering a broad range of topics that represent the breadth of scholarship of the college's five schools. 
"I am moved by the ways in which your work celebrates the vibrant intellectual life we enjoy here at Brooklyn College," President Michelle J. Anderson told the audience.
This year's titles included such works as Miami's Forgotten Cubans: Race, Racialization, and the Miami Afro-Cuban Experience (Palgrave McMillan) by Puerto Rican and Latino Studies Chair Alan A. Aja; Green Gentrification: Urban Sustainability and the Struggle for Environmental Justice (Routledge) by sociology professors Tammy L. Lewis and Kenneth Gould; The Hollywood MBA: A Crash Course in Management from a Life in the Film Business (St. Martin's) by Distinguished Lecturer of Film Thomas A. Reilly; and Some Possible Solutions: Stories (Henry Holt) by English Professor Helen Philips. 
A complete listing of this year's faculty and staff books, as well as faculty books dating back to 2012, can be found here. 
Back to BC News